Lancia.
27th November 1923
Page 24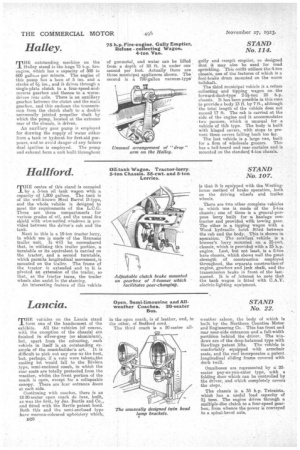 Page 24, 27th November 1923 —
Lancia.
Close
Open, Semi-limousine and Allweather Coaches. 20-seater
Bus.
STAND No. 22.
TEIF. vehicles on the Lancia stand form one of the handsomest of the exhibits. All the vehicles (of course, with the exception of the chassis) are finished in silver-grey (or aluminium), but, apart from the colouring, each vehicle in itself is an outstanding example of the coachbuilder's art. It is difficult to pick out any one as the best, 'but, perhaps, if a vote were takena.the casting lot would fall to the Riviera type, semi-enclosed coach, in which the rear seats are totally protected from the weather, whilst the front portion of the coach is open, except for a collapsable canopy. There are four entrance doors at eaeh side.
Continuing with coaches, there is an 18-20-seater open coach de luxe, built, as was the first, by Jas. Bartle and Co., and fitted with the Bartle patent hood. Both this and the semi-enclosed type have maroon-coloured upholstery which, D20 in the open coach, is of leather, and, in the other, of Bedford cord. The third coach is a 20-seater all. weather saloon, the body of which is built by the Northern Counties Motor and Engineering Co.. This has front and rear near-side entrances and a full-width partition behind the driver. The windows are of the drop-balanced type with Rawlings patent lifts. The vehicle is comfortably equipped with armchair seats, and the roof incorporates a patent longitudinal sliding frame covered with duck twill.
Omnibuses are represented by a 20seater pay-as-you-enter type with a folding door which can be controlled by the driver, and which completely covers the steps.
The chassis is a 35 lap. Tetraiota, which has a useful load capacity of 2k tons. The engine drives through a multiple-disc clutch to a four-speed gearbox, from whence the power is conveyed to a spiral-bevel axle.