Hallford.
27th November 1923
Page 24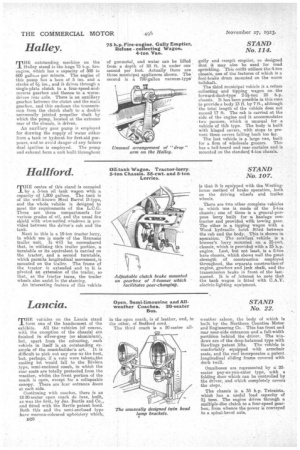 Page 24, 27th November 1923 —
Hallford.
Close
Oil-tank Wagon. Tractor-lorry. 5-ton Chassis. 55-cwt. and 5-ton Lorries.
STAND No. 107..
THE centre of this stand is occupied by a 5-ton oil tank wagon with a capacity of 1,200 gallons. The tank is of the well-known &eel Barrel D-type, and the whole vehicle is designed to meet the requirements of the L.C.C. There are three compartments for various grades of oil, and the usual fire shield with wire-netted windows is provided between the driver's cab and the tank.
Next to this is a 10-ton tractor lorry, in which use is made of the Ransome trailer unit. It will be remembered that, in utilizing this trailer portion, a turntable or its equivalent is carried on the tractor, and a second turntable, which permits longitudinal movement, is mounted on the trailer. The frame of the tractor is extended and to it is pivoted an extension of the trailer, so that, as the tractor turns, the trailer wheels also assist in the steering.
An interesting feature of this vehicle is that it is equipped with the Westinghouse method of brake operation, both on the driving wheels and trailer wheels.
There are two other complete vehicles in which use is made of the 5-ton chassis; one of these is a general-purpose lorry built for a' haulage contractor and provided with towing gear. The other is a tipping wagon with a Wood hydraulic hoist fitted between the cab and the body. This is shown in operation. The smallest; vehicle is a brewer's lorry mounted on a 35-cwt. chassis, which 1$ provided with a 25 li.p. engine. Last, but not least, is a 5-ton bare chassis, which shows well the great strength of construction employed throughout, the separate construction-of engine, gearbox and jack shaft, and the transmission brake in front of the lastnamed. It is of interest to note that the tank wagon is fitted with C.A.V. electric-lighting equipment.