Gray.
27th November 1923
Page 23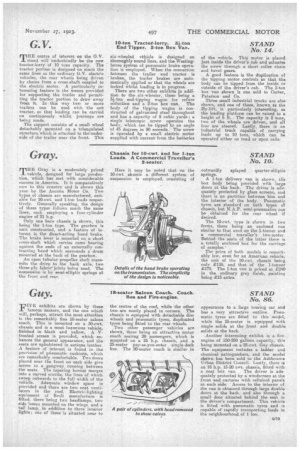 Page 23, 27th November 1923 —
Gray.
Close
Chassis for 10-cwt. and for 1-ton Loads. A Commercial Traveller's 2-seater.
STAND No. 10.
THE Gray is a moderately priced vehicle, designed for large production, which has met with considerable success in America. It, is comparatively new to this country and is shown this year by the Ancona Motor Co. Two types of chassis are manufactured, suitable for 10-cwt. and 1-ton loads respectively. Generally speaking, the design of these types follows much the same lines, each employing a four-cylinder engine of 21 h.p.
Only one bare chassis is shown, this being the 1-ton type. The gearbox is unit constructed, and a feature of interest is the direct-acting hand brake. The brake lever is mounted on a. short cross-shaft which carries cams bearing against the ends of an externally contracting band which surrounds a drum mounted at the hack of the gearbox.
An open tubular propeller shaft transmits the drive to the back axle, two three-ply fabric" joints being used. The 'suspension is by semi-elliptic springs at the front and rear.
Here it may be noted that on the 10-cwt. chassis a different system of suspension is employed, consisting of outwardly splayed quarter-elliptic springs.
A 1-ton delivery van is shown, the box body ,being provided with large doors at the back. The driver is adequately protected by glass screens, and there is no partition between him and the interior of the body. Pneumatic tyres are standard on both types of chassis, but N.A.P. semi-pneumatics can be obtained for the rear wheel if desired.
The 10-cwt. type is shown in two forms, these being an enclosed van similar to that used on the 1-tonner and a commercial traveller's two-seater. Behind the seats of the latter there is a totally enclosed box for the carriage of samples.'
The price of both models is remark. ably low, even for an American vehicle, the cost of the 10-cwt. chassis being. only £135, and that of the 1-tonner £175. The 1-ton van is priced at £240 in the ordinary grey finish, painting being 215 extra.