Foden.
27th November 1923
Page 21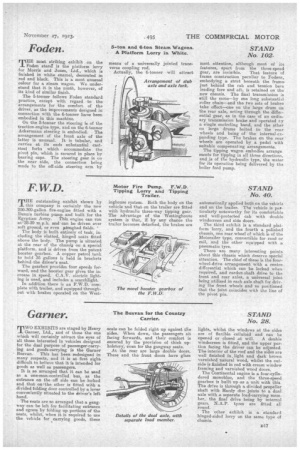 Page 21, 27th November 1923 —
Foden.
Close
5-ton and 6-ton Steam Wagons. A Platform Lorry in White.
STAND No. 102.
THE most striking exhibit on the Foden stand is the platform lorry for Morris and Jones, Ltd:, which is finished in white enamel, decorated in red and black. This is a most unusual colour for a steam wagon. We understand that it is the ninth, however, of its kind of similar finish.
The 5-tonner follows Foden standard practice, except with regard to the arrangements for the comfort of the driver, as the improvements designed in connection with the 6-tanner have been embodied in this machine.
On the 5-tanner the steering is of the traction-engine type, and on the 6-tonner Ackermann steering is embodied. The arrangement of the front axle of the latter is unusual. It is tubular, and carries at its ends substantial cast. steel forks which accommodate the pivot pin, which is secured in place by bearing caps. The steering gear is on the .near side, the connection being made to the off-side steering arm by
means of a universally jointed trans. verse coupling rod. Actually, the 6-tanner will attract most attention, although most of its features, apart from the three-speed
gear, are invisible. That feature of frame construction peculiar to Fodens, embodying a strut beneath the framo. just behind the cab and tension bars leading fore and aft, is retained on the new chassis. The final transmission is still the same—by one long substantial roller chain—and the two sets of brakes take effecte—one on the large drum on the rear aide, acting through the differential gear, as in the case of an ordinary transmission brake and operated sy a single encircling band, and the other on large drums bolted to the rear wheels and being of the internal-expanding type. The brakes on the rear wheels are operated by a pedal with _ suitable compensating arrangements.
The tipping wagon embodies arrange ments for tipping in all three directions, and _is of the hydraulic, type, the water for its operation being delivered by the boiler feed pump.