Dodge.
27th November 1923
Page 20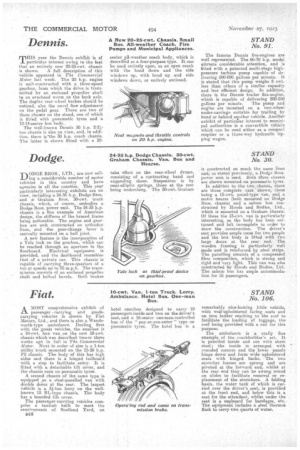 Page 20, 27th November 1923 —
Dodge.
Close
24-55 h.p. Dodge Chassis. 50-cwt. Graham Chassis. Van. Bus and Hearse.
STAND No. 30.
T's ODGE BROS., LTD., are now
selling a considerable number of motor vehicles in this country and have agencies in all the counties. This year particularly interesting exhibits are on view, including a, 24-35 h.p. Dodge Bros. and a' Graham Bros. 30-cwt. truck chassis, which, of course, embodies a Dodge Bros. power unit_ The 24-35 h.p. chassis is a fine example of American design, the stiffness of the braced frame being noticeable. The engine and gearbox are unit constructed on orthodox lines, and the gear-change lever is centrally mounted on a ball joint. A new feature is the incorporation of a Yale lock on the gearbox, whrch can be reached through an aperture in the floorboard. Electrical equipment is provided, and the dashboard resembles that of a private car. This chassisis capable of carrying three-quarters of a ton at speeds up to 25 m.p.h. The transmission consists of an enclosed propeller shaft and helical bevels. Both brakes
take effect on the rear-wheel drums, consisting of a contracting band and expanding shoes. Suspension is by semi-elliptic springs, those at the rear being underslung. The 30-csszt. Graham is constructed on much the same lines and, as stated previously, a Dodge Bros. power unit is used. Both tflese chassis are shown mounted on pneumatic tyres.
In addition to the two chassis, there are three complete cars 'shown, these being a 15-cwt. panel-type van, and a motor hearse (both mounted on Dodge Bros. chassis) and a saloon bus constructed by Hoods and Bodies, Ltd., which is mounted on a Graham chassis. Of these the 15-cwt, van is particularly interesting, as the body has been sectioned and left incomplete in order to show the construction. The driver's seat provides ample room for two people and the box body is fitted with two large doors at the year end. The wooden framing is particularly well made and is reinforced by steel strips. The panelling consists of a compressed fibre composition, which is strong arid rigid and very light. This van was also constructed by Hoods and Bodies, Ltd. The saloon bus has ample acdommodas tion for 16 passengers.