The Hold-up London and Provincial.
27th November 1923
Page 2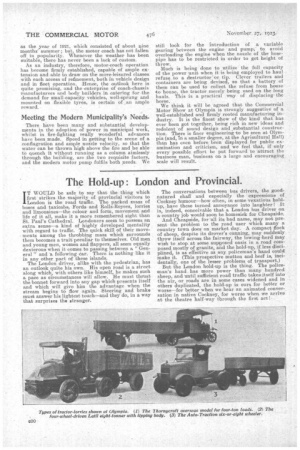 Page 2, 27th November 1923 —
The Hold-up London and Provincial.
Close
IT WOULD be safe to say that the thing which first strikes the majority of provincial visitors to London is the road traffic. The packed mass of busesand taxicabs, Fords and Rolls-Royces, lorries and limousines—the colour and form, movement and life of it all, make it a more remembered sight than St. Paul's Cathedral. Londoners seem to possess an extra sense—a kind of highly developed mentality with regard to traffic. The quick skill of their movements among the throbbing mass which surrounds them becomes a trait peculiar to themselves. Old men and young men, women and flappers, all seem equally dexterous when it comes to passing between a " General " and a following car. There is nothing like it
in any other part of these islands. ,
The London driver, alike with the pedestrian, has an outlook quite his own. His open road is a. street along which, with others like himself, he makes such a pace as circumstances will allow. He must thrust the bonnet forward into any gap which presents itself and which will give him the advantage when the stream begins to flow again. Steering and brake must answer his lightest touch—and they do, in a way that surprises the stranger. The conversations between bus drivers, the goodnatured chaff and especially the expressions of Cockney humour—how often, in some vexatious holdup, have these turned annoyance into laughter ! It is, indeed, conceivable that a London bus driver on a country job would soon be homesick for Cheapside.
And Cheapside, for all its bad name, may not present the problem to the road user which many a country town does on market day. A compact flock of sheep, despite its drover's cunning, may suddenly throw itself across the fairway, the lowing herd may wish to stop at some supRosed oasis in a road composed mostly of granite, and the hold-up, if less disciplined is as effective as any policeman's hand could make it. (This prospective mutton and beef is, incidentally, one of the lesser problems of transport.) But the London hold-up is the thing. The policeman's hand has more power than many hundred sheep, and until sufficient road traffic takes itself into the air, or roads are in some cases widened and in others duplicated, the hold-up is ours for better or worse—for better when we hear an animated conversation in native Cockney, for worse when we arrive at the theatre half-way through the first act!