Daimler.
27th November 1923
Page 19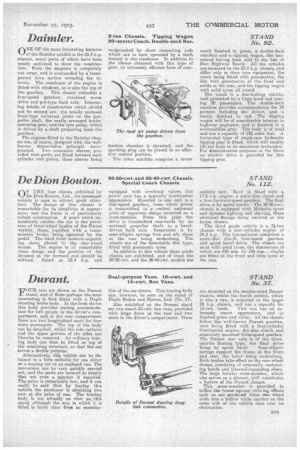 Page 19, 27th November 1923 —
Daimler.
Close
2-ton Chassis. Tipping Wagon 20-seater Coach. Double-deck Bus.
STAND No. 92.
ONE OF the most interesting features of the Daimler exhibit is the 22.4 h.p. chassis, many parts of which have been neatly sectioned to show the construction. Even the magneto is completely 'cut away-, arid is surrounded by a transparent mica section revealing the interior. The crankcase of the engine is fitted with windows, as is also the top of the gearbox. This chas.sis embodies a four-speed gearbox, overhead worm drive and pot-type back axle. Interesting details of construction which should not be missed are: the totally enclosed hook-type universal joints on the propeller shaft, the neatly arranged brakeoperating gear, and the tyre pump, which is driven by a shaft projecting from the _gearbox.
The engines fitted to the Daimler chassis are, of course, designed with the wellknown sleeve-valve principle incor.
porated. Two concentric sleeves, provided with ports, are fitted between each cylinder and piston, these sleeves being
reciprocated by short connecting rods which are in turn operated by a shaft housed in the crankcase. In addition to the silence obtained with this type of gear, an extremely efficient form of corn bustion chamber is obtained, and the sparking plug can be Placed in an effective central position.
The other exhibits comprise a motor
coach finished in green, a double-deck omnibus and a tipping wagon,, the lastnamed having been sold to the Isle of Man Highway Board. All the vehicles are mounted on the 22.4 h.p. chassis, and differ only in their tyre equipment, the coach being fitted with pneumatics, the bus with pneumatics at. the front and solids at the rear, and the tipping wagon with solid tyres all round.
The coach is a fine-looking vehicle, well protected by a Cape hood and seating 20 passengers. The double-deck omnibus provides accommodation for 34 persons including the driver, and is neatly finished in red. The tipping wagon will he of considerable interest to highway engineers, and is finished in a workmanlike grey. The body is of steel and has a capacity of 12ci cubic feet. A horizontal type Of single-ram hydraulic tipping gear is fitted, which will readily lift the body to its maximum inclination. For demonstration purposes at the Show an electric drive ie provided for this tipping gear.