Crossley.
27th November 1923
Page 18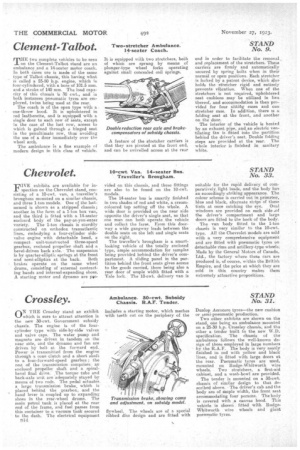 Page 18, 27th November 1923 —
Crossley.
Close
Ambulance. 30-cwt. Subsidy Chassis. R.A.F. Tender.
STAND No 31.
Os THE Crossley stand an exhibit which is sure to attract attention is the new 30-cwt. Government subsidy chassis. The engine is of the fourcylinder type with side-by-side valves and valve caps. The water pump and magneto are driven in tandem on the near side, and the dynamo and fan are driven by belt atthe forward end. Power is transmitted from the engine through a cone clutch and a short shaft to a four-forward-speed gearbox ; the rest of the transmission comprises an enclosed propeller shaft and a spiralbevel final drive. The torque tube and back-axle unit are adequately stayed by means of two rods. The pedal actuates. a large transmission brake, which is placed behind the gearbox, and the hand lever is coupled up to expanding shoes in therear-wheel drums. The main petrol taxis is placed at the rear end of the frame, and fuel passes from this container to a vacuum tank secured to the dash. The electrical equipment
"1.4 includes a starting motor, which meshes with teeth cut on the periphery of the flywheel. The wheels are of a special ribbed disc design and are fitted with Dunlop Aeroeore tyres—the new cushion or semi-pneumatic product-ion.
Two other exhibits are shown on the stand, one being an ambulance mounted on a 25-30 h.p. Crossley chassis, and the other a tender built to the new W.D. specification. The chassis of the ambulance follows the well-known design of those employed in large numbers by the R.A.F. The body is very neatly finished in red with yellow and black lines, and is fitted with large doors at the rear. Pneumatic tyres are used, mounted on Budge-Whitworth wire wheels. Two stretchers, a first-aid cabinet, and a wash-bowl are provided.
The tender is mounted on a 30-cwt. chassis of similar design to that described above. The driver's cab and the body are of ample width, the front seat accommodating four persons. The body is covered with a canvas hood. This vehicle is shown fitted with nudgeWhitworth wire wheels and giant pneumatic tyres.