Clement-Talbot.
27th November 1923
Page 18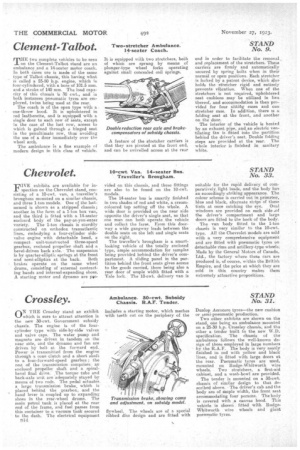 Page 18, 27th November 1923 —
Clement-Talbot.
Close
Two-stretcher Ambulance. 14-seater Coach.
STAND No. 9.
THE two complete vehicles to be seen on the Clement-Talbot stand are an ambulance and a 1.4-seater motor coach. In both cases use is made of the same type of Talbot chassie, this having what is called a 25-50 h.p. engine, which is four-cylindered, with a bore of 101.5 mm. and a stroke of 140 ram. The load capacity of this chassis is 30 cwt., and both instances pneumatic tyree are employed, twins being used at the rear.
The coach is of the open type with a one-throw hood. It is upholstered in red leatherette, and is equipped with single door to each row of seats, except in the case of the last. row, access to which is gained through a hinged seat in the penultimate row, thus avoiding the use of a door immediately over the wheel arch.
The ambulance is a fine example or modern design in this class of vehicle. It is equipped with two stretchers, both of which are sprung by means of plunger-type wheel forks operating against small concealed coil springs.
A feature of the stretcher carriers is that they are pivoted at the front end, and can be swivelled across at the rear end in order to facilitate the removal and replacement of the stretchers. These carriers are firmly and automatically secured by spring bolts when in their normal or open positions. Each stretcher is locked by a patent device, which also holds the stretcher rigid and entirely prevents vibration, When one of the stretchers is not required, upholstered seat cushions may be utilized in lieu thereof, and accommodation is then pro. vided for four sittihg eases and one stretcher case. In addition, there is a folding seat at the front, and another on the door.
The interior of the vehicle is heated by an exhaust pipe, and an electric ventilating fan is fitted into the partition behind the driver's seat. Double folding steps are provided at. the rear. The whole interior is finished in sanitary white.