Clayton.
27th November 1923
Page 17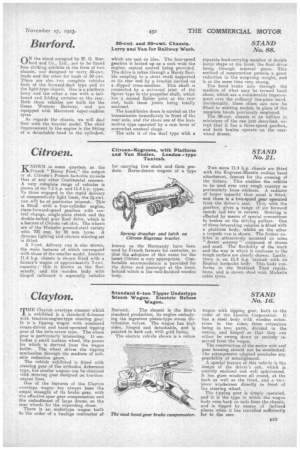 Page 17, 27th November 1923 —
Clayton.
Close
Standard 6-ton Tipper Undertype Steam Wagon. Electric Refuse Wagon.
STAND No. 16.
THE Clayton overtype steamer which is exhibited is a standard 6-toniter with traction-engine-type steering gear. It is a -tipping wagon with combined steam-driven and hand-operated tipping gear of the twin-screw type. The steam gear is particularly interesting. It embodies a small turbine wheel, the power for which is derived from the wagon boiler. The wheel drives the tipping mechanism through the medium of suitable reduction gears.
The vehicle exhibited is fitted with steering gear of the orthodox Ackerman type, but similar wagons can be obtained with steering gear designed on tractionengine lines.
One of the features of the Clayton overtype wagon has always been the ample strength of its brake gear, with the effective spur gear compensation and the embodiment of large drums on the rear wheels for the expanding shoes. ' There is an undertype wagon built to the order of a haulage contractor of Norwich. The chassis is the firm's standard production, its engine embodying the ingenious piston-type steam distribution valves. The wagon has high sides, hinged and detachable, and i& painted in dark red, with gold lining.
The electric vehicle shown is a refuse
wagon with tipping gear, built to the order of the Lincoln Corporation. It has asteel body with wooden extensions to the. sides; these extensions being in two parts, divided in the centre, and hinged so that they can either be swung down or entirely removed from the wagon.
The construction of the motor unit and gear housing should not be overlooked. The arrangement adopted precludes any possibility of misalignment.
A ,special feature of this vehicle is the design of the driver's cab, which is entirely enclosed and well upholstered. It has glass windows all round, at the back as well RS the front, arid a twopiece windscreen directly in front of the steering wheel.
The tipping gear is simply operated, and it is the type in which the wagon body runs back on rails from the chassis, and ie tipped by means of inclined planes when it has travelled sufficiently far to the rear.