Burford.
27th November 1923
Page 17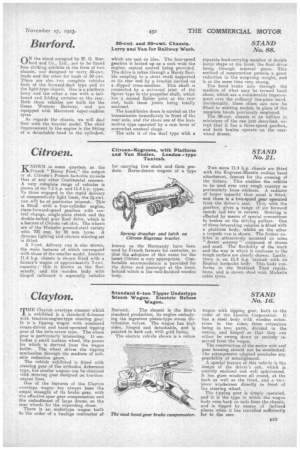 Page 17, 27th November 1923 —
Burford.
Close
30-cwt. and 50-cwt. Chassis. Lorry and Van for Railway Work.
STAND No, 88,
ON the stand occupied by H. G. Burford and Co., Ltd., are to be found -four striking exhibits in the form of two chassis, one designed to carry 30-cwt. ,loads and the other for loads of 50 cwt. There are also two complete vehicles both of the forward-dash type and on the light-type chassis. One is a platform lorry and the other a van with a tailboard and folding curtains at the rear. Both these vehicles are built for the Great Western Railway, and are equipped with Macintosh super-cushion tyres.
As regards the chassis, we will deal first with the heavier model. The chief improvement in the engine is the fitting of a detachable head to the cylinders, which are cast en bloc. The four-speed gearbox is bolted up as a unit with the engine, central control being provided. The drive is taken through a Hardy flexible coupling to a short shaft supported at its rear end by a bracket carried on a dipped cross-member. This shaftis connected by a universal joint of the Spicer type to the propeller shaft, whieh has a second Spicer joint at the rear end, both these joints being totally enclosed.
The hand-brake drum is carried on the transmission immediately in front of the rear axle, and the shoes are of the locomotive type operated by a cam lever of somewhat unusaal shape. The axle is of the dual type with a separate load-carrying member of double banjo shape at the front, the final drive being through internal gears. This method of construction permits a great. reduction in the unsprung weight, and is at the same time very strong.
The hand brake acts through the medium of what may be termed band shoes, which are a considerable improvement over the ordinary ne-piece band. Incidentally, these shoes can now be fitted to existing models in place of the complete bands previously employed.
The 30-cwt. chassis is an edition in miniature of the one just described, except that it has a three-speed gearbox, and both brake operate on the rearwheel drums.