Bern a.
27th November 1923
Page 16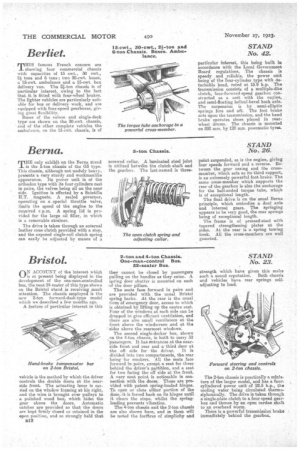 Page 16, 27th November 1923 —
Bern a.
Close
5. ton Chassis.
STAND No. 26.
THE only exhibit on the Berne stand is the 5-ton chassis of the G3 type. This chassis, although not unduly heavy, presents a very sturdy and workmanlike appearance. Its power unit is of the orthodox type with its four cylinders cast in pairs, the valves being all on the near side. Ignition is effected by a Scintilla H.T. magneto. A sealed governor, operating on a special throttle valve, limits the speed of the engine to the required r.p.m. A spring lid is provided for the large oil filler, in which is a removable strainer.
The drive is taken through an external leather cone clutch provided with a stop, and the exposed single-coil clutch spring can easily be adjusted by means of a screwed collar. A laminated steel joint is utilized betwren the clutch shaft and the gearbox. The last-named is three point suspended, as is the engine, giving four speeds forward and a reverse. Between the gear casing and the crossmember, which acts as its third sepport, is an extremely powerful foot brake. The same cross-member which supports the rear of the gearbox is also the anchorage for the ball-ended torque tube, which is of exceptional length. The final drive is on the usual Berne principle, which embodies a dual axle and internal gears. The springing appears to be very good, the rear springs being of exceptional length. The frame is of pressed-steel with tapered strengthening plates at the sides. At the rear is a spring towing hook. All the cross-members are well gusseted.