Auto-traction
27th November 1923
Page 14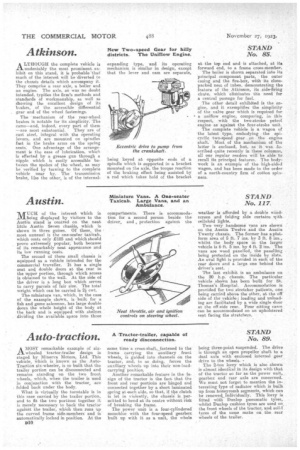 Page 14, 27th November 1923 —
Auto-traction
Close
A Tractor-trailer, capable of
• ready disconnection.
STAND No. 89.
AMOST remarkable example of sixwheeled tractor-trailer design is staged by Minerva Motors, Ltd. This vehicle, which is known as the AutoTraction six-wheeler, is so built that the, trailer portion can be disconnected and remains standing on the two front wheels, which, when the trailer is used in conjunction with the tractor, are folded back under the body.
What is virtually the turntable is in this case carried by the trailer portion, and to fit the two portions together it is merely necessary to back the tractor agairiSt the trailer, whicli then runs tip the curved frame side-members and is automatically locked in position. At the D10 same time a crass-shaft" fastened to the frame carrying the auxiliary . front wheels, is guided into channels on the tractor, and, in so doing, forces the auxiliary wheels up into their non-loadcarrying position.
Another remarkable feature in the design of the tractor is the fact that the front and rear portions are hinged and connected together by a short laminated spring at each side, so that, if tlite clutch is let in violently, the chassis is permitted to bend at its centre without risk of breaking the frame.
The power unit is a four-cylindered monohloc with the four-speed gearbox built up with it as a unit, the whole being three-point suspended. The drive is through an open propeller shaft to a dual axle with enclosed internal gear drive to the wheels. • The 2-ton lorry which is also shown is almost identical in its design with that of the tractor so far as the power unit, gearbox and rear axle are concerned. We mustnot forget to mention the interesting type of radiator which is built up from honeycomb segments, which can be renewed individually. This lorry is fitted with Dunlop pneumatic tyres, whilst Dunlop cushion tyres are used ore the front wheels of the tractor, and solid tyres of the same make on the rear wheels of the trailer.