R.AY. TRANSPORT SERVICE.
27th May 1919
Page 16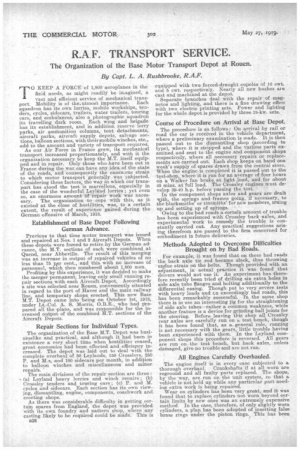 Page 17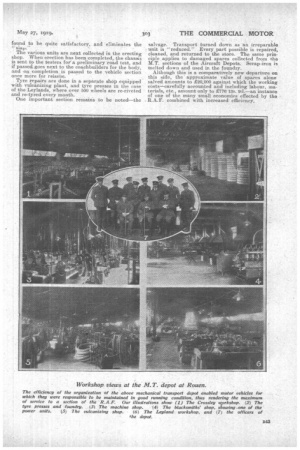 Page 16, 27th May 1919 —
R.AY. TRANSPORT SERVICE.
Close
The Organization of the Base Motor Transport Depot at Rouen. By Capt. L. A. Rushbrooke,
T0 KEEP A FORCE of 1,800 aeroplanes in the field needs, as might readily' be imagined, a vast and efficient service of mechanical transport. Mobility is of the utmost importance. Each squadron has its own lorries, mobile workships, tenders, cycles, sidecars, trailers, water trailers, touring cars, and ambulances, also a photographic squadron its travelling dark room. Each wing and brigade has its establishment, and in addition reserve lorry parks, air ammunition columns, tent detachments, aircraft parks, aircraft supply depots, salvage sections, balloon sections, with their mobile winches, etc., add to the amount and variety of transport requireu.
As our Air Force in France grew, its mechanical transport increased proportionately, and with it the organization necessary to keep the M.T. itself equipped and in repair. Only those who have been out in France during the war, can have any idea of the state of -the roads, and consequently the enormous strain to which motor transport generally was "subjected. Considering these factors; the way in which our transport has stood the test is marvellous, especially in the case of the wonderful Leyland lorries ; yet even so, an enormous amount Of repair work was neces sary. The organization to cope with this, as it existed at the close of hostilities, was, to a certain extent, the result of experience gained during the German offensive of March, 1918.
Establishment of Base Depot Following German Advance.
Previous to that time motor transport was issued and repaired at Nos. 1 and 2 Aircraft Depots. When these depots were forced to retire by the German advance, the M.T. sections of each were combined at Quend, near Abbeville. The result of this merging was an increase in output of repaired vehicles of no less than '75 pp cent., and this, with no increase of personnel, which then numbered about 1,800 men. Profiting by this experience, it was decided to make the merger permanent, leaving only small running repair 'sections with each Aircraft Depot. Accordingly a site was selected near Rouen, conveniently situated in regard to the port of Havre and the main railway line, and temporary shops erected. This new Base M.T. Depot came into being on October 1st, 1918, -under Lt.-Col. A. S. Morris, 0.B.E., who had prepared all the plans, and was responsible for the increased output of the combined M.T. sections of the Aircraft Depots.
Repair Sections for Individual Types.
The organization of the Base M.T. Depot was businesslike and practical, and although it had been in existence a very short time when hostilities ceased, great economies had been effected and efficie.ncy increased. The depot was laid out to deal -with the complete overhaul of 50 Leylands, 150 Crosslevs. 250 P. and M.s, and 100 sidecars per month, in addiOon to balloon winches and miscellaneous and minor repaiis. '
The main divisions of the repair section are three : (a) Leyland heavy lorries and winch repairs ; (b) Crossley tenders and touring cars ; (c) P. and M. cycles and sidecars. Each section has its own view.ing, dismantling, engine, components, coachwork and erecting shops. As there was considerable difficulty in getting certain spares from England, the depot was provided with its. own foundry and nattern shop, where any casting likely to be required could be made. This is 538 equipped with two forced-draught cupolas of 10 cwt. and 5 cwt. respectively. Nearly all new bushes are cast and machined at the depot.
Separate branches deal with the repair of magnetos and lighting, and there is a fine drawing office with two electric printing sets. Power and lighting for the whole depot is provided by three 18-kw. sets.
Course of Procedure on Arrival at Base Depot.
The procedure is as follows : On arrival by rail or road the car is received in the vehicle department, where a preliminary examination is made. It is then passed out to the dismantling shop (according to type), where it is stripped and the various parts examined and sent to the engine and component shops respectively, where all necessary repairs or replacements are carried out. Each shop keeps on hand one -week's supply of spares' drawn from the central store. When the engine is completed it is passed out to the test-shop, where it is run for an average of four hours on a Walker fan brake at light load, and for about 45 mins, at full load. The Crossley engines must develop 39-40 h.p. before pasSing the test. In the component shops axles. and gears are dealt with, the springs and frames going, 'if necessary, to the 'blacksmiths' or tinsi-niths' for new members, truing up and setting up of springs.
Owing to the bad roads a certain amount of trouble has been experienced with Crossley back axles, and experimental work to remedy the trouble is constantly carried out. Any practical suggestions arising therefrom are. passed to the firm concerned for embodiment in future deliveries.
Methods Adopted to Overcome Difficulties Brought on by Bad Roads.
For example, it was found that on these bad raads the back axle tie rod became slack, thus throwing undue strain on the bolts. Though provided with an adjustment, in actual practice it was found that drivers would not use it. An experiment has therefore recently been tried of drilling six extra holes in side axle tube flanges and bolting additionally to the differential casing. Though put to very severe tests with heavy loads and cn exceedingly bad roads, this has been remarkably successful. Tn the same shop there is in use an interesting jig for the straightening of side axle tubes—rather a common weakness, while another feature is a device for grinding ball joints for the steering. Before leaving this shop all Crossley rear axles are carefully run on a test 'bench, though it has been found that, as a. general rule, running is not necessary with the gears, little trouble having been _experienced with them. in the Leyland component shops this procedure is reversed. All gears are run on the test bench, but back axles, unless damaged, give no trouble and are not run.
All Engines Carefully Overhauled.
The engine itself is in every case subjected to a thorough overhaul. Crankshafts if at all worn are reground and all faulty parts replaced. The shops, by the -way, are run on the unit system, so that a vehicle is not held up while any particular part needing extra work is -being repaired.
Wear on cylinders has been very -great, and it was found that to replace cylinders not worn beyond certain limits by new ones was an extremely expensive method. In the case, therefore, of only slightly worn cylinders, a plan has been adopted of inserting false brass rings under the piston rings., This has been
round to he quite satisfactory, and eliminates the Slap.
The various units are next collected in the erecting shop. When erection has been completed, the chases is sent to the testers for'a preliminary road test, and if passed goes next to the coachbuilders for the body, and on completion is passed to the vehicle section once more for reissue.
Tyre repairs are done in a separate shop equipped with vulcanizing plant, and tyre presses in the case of the Leylands, where over 500 wheels are re-riveted and re-tyred every month.
One important section remains to be noted—the
salvage. Transport turned down as an irreparable unit is "reduced." Every 'Dart possible is repaired, cleaned, and returned to the store. The same principle applies to damaged spares collected from the M.T. sections of the Aircraft Depots. Scrap-iron i9 melted down and used in the foundry. Although this is a comparatively new departure on this side, the " approximate value of spares alone salved An:omits to £20,000 against which the working costs-.-carefully accounted and including labour, materials, etc., amount only to .2776 13s. M--an instance of one of the many small economies effected by the . R.A.F. combined with increased efficiency.