COAL HAULAG
27th March 1953
Page 48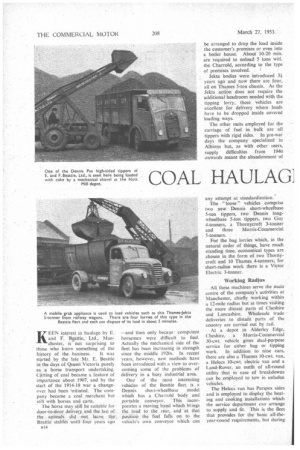 Page 49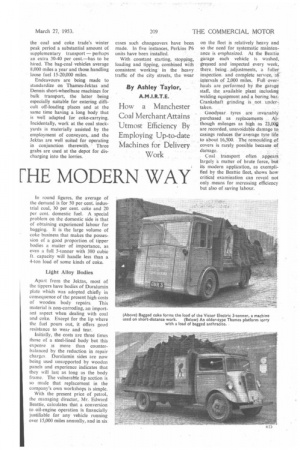 Page 48, 27th March 1953 —
COAL HAULAG
Close
Keywords :
FHE MODERN WAY
By Ashley Taylor, A.M.I.R.T.E.
How a Manchester Coal Merchant Attains Utmost Efficiency By Employing Up-to-date Machines for Delivery
Work
KEEN interest in haulage by E. and F. Bpattie, Ltd., Manchester, is not surprising to those who know something of the
history of the business. It was started by the late Mr. E. Beattie in the days of Queen Victoria purely as a horse transport undertaking. Carting of coal became a feature of importance about 1907, and by the start of the 1914-18 war a changeover had been initiated. The company became a coal merchant but still with horses and carts.
' The horse may still be suitable for door-to-door delivery and the last of the animals did not leave the Beattie stables until four years ago 814 —and then only becaus , competent horsemen were difficult to find. Actually the mechanical side of the fleet has been increasing in strength since the middle 1920s. In. recent years, howevec, new methods have been introduced with a view to overcoming some of the problems of delivery in a busy industrial area.
One of the most interesting .vehicles of the Beattie fleet is a 'Dennis shoit-wheelbase model which has a Charrold body and portable conveyor. This incorporates a moving band which brings the load to • the rear, and *at that position .the fuel falls on to the vehicle's own conveyor which can
be arranged to drop the load inside the customer's premises or even into a boiler house. About 10-20 min. are required to unload 5 tons witl_ the Charrold, according to the type of premises involved. 4 Jekta bodies were introduced 3i years ago and now there are, four, all on Thames 5-ton chassis. As the Jekta action does not require the additional headroom needed with the tipping lorry, these vehicles are excellent for delivery where loads have to be dropped inside covered loading ways.
The other units employed for the carriage of fuel in bulk are all tippers with rigid sides. In pre-war days the company specialized . in Albions but, as with other users, supply difficulties from 1940 onwards meant the abandonment of any attempt at standardization.
The "loose" vehicles comprise two new Dennis short-wheelbase 5-ton tippers, two Dennis longwheelbase 5-ton tippers, two Guy 4-tonners, a Thornycroft 3-tonner and three Morris-Commercial 5-tonners.
For the bag lorries which, in the natural order of things, have much standing time, economical types are chosen in the form of two Thornycroft and 10 Thames 4-tormers; for short-radius work there is a Victor Electric 3-tonner.
Working Radius
All these machines serve the main centre of the company's activities at Manchester, chiefly working within a 12-mile radius but at times visiting the more distant parts of Cheshire and Lancashire. Wholesale trade deliveries to distant parts of the country are carried out by rail.
At a depot in Alderley Edge, Cheshire, a Morris-Commercial 30-cwt. vehicle gives dual-purpose service for either bag or tipping work. In addition to nine cars, there are also a Thames 10-cwt. van, a Helecs 10-cwt. electric van and a Land-Rover, an outfit of all-round utility that in case of breakdowns can be errijiloyed to tow in unladen vehicles.
The Helecs van has Perspex sides and is employed to display the heating and cooking installations which the service department can arrange to supply and fit. This is the fleet that provides for the basic all-theyear-round requirements, but during
the coal and coke trade's winter peak period a substantial amount of supplementary transport — perhaps an extra 30-40 per cent —has to be hired. The bag-coal vehicles average 8,000 miles a year and those handling loose fuel 15-20,000 miles.
Endeavours are being made to standardize on Thames-Jektas and Dennis short-wheelbase machines for bulk transport, the latter being especially suitable for entering difficult off-loading places and at the same time having a long body that is well adapted for coke-carrying. Incidentally, work at the coal stockyards is materially assisted by the employment of conveyors,. and the Jektas are well suited for operating in conjunction therewith. Three grabs are used at the depot for discharging into the lorries.
In round figures, the average of the demand is for 50 per cent. industrial coal, 30 per cent. coke and 20 per cent, domestic fuel. A special problem on the domestic side is that of obtaining experienced labour for bagging. It is the large volume of coke business that makes the possession of a good proportion of tipper bodies a matter of importance, as even a full 5-tonner with 380 cubic ft. capacity will handle less than a 4-ton load of some kinds of coke.
Light Alloy Bodies
Apart from the Jektas, most of the tippers have bodies of Duralumin plate which was adopted chiefly in consequence of the present high costs of wooden body repairs. This material is non-corroding, an important aspect when dealing with coal and coke. Except for the lip where the fuel pours out, it offers good resistance to wear and tear.
Initially, the costs are three times those of a steel-lined body but this expense is more than counterbalanced by the reduction in repair charges. Duralumin sides are now being used unsupported by wooden panels and experience indicates that they will last as long as the body frame. The vulnerable lip section is so made that replacement in the company's own workshops is simple.
With the present price of petrol, the managing director, Mr. Edward Beattie, calculates that a conversion to oil-engine operation is financially justifiable for any vehicle running over 15,000 miles annually, and in six
cases such changeovers have been made. In five instances, Perkins P6 units have been installed.
With constant starting, stopping, loading and tipping, combined with consistent working in the heavy traffic of the city streets, the wear on the fleet is relatively heavy and so the need for systematic maintenance is emphasized. At the Beattie garage each vehicle is washed, greased and inspected every week, there being. adjustments, a fuller inspection, and complete service, intervals of 2,000 miles. Full over hauls are performed by the garage staff, the available plant including welding equipment and a boring bar: Crankshaft grinding is not under-. taken.
Goodyear tyres are invariably purchased as replacements _ though mileages as high as 23,00# are recorded, unavoidable damage to casings reduces the' average tyre life to about 16,500. The remoulding of covers is rarely possible because of damage.
Coal transport often appears largely a matter of brute force, but its modern application, as exemplified by the Beattie fleet, shows how critical examination can reveal not only means for Increasing efficiency but also of saving labour.