VIANY DIGS IN
27th March 1953
Page 43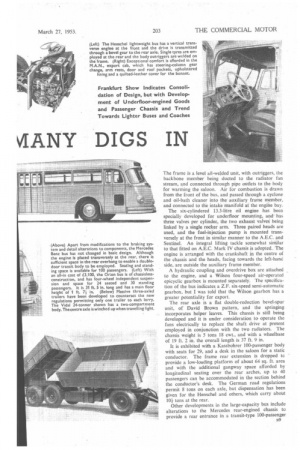 Page 42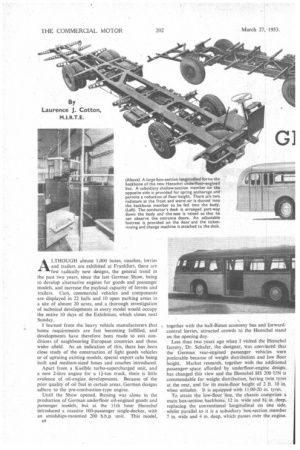 Page 44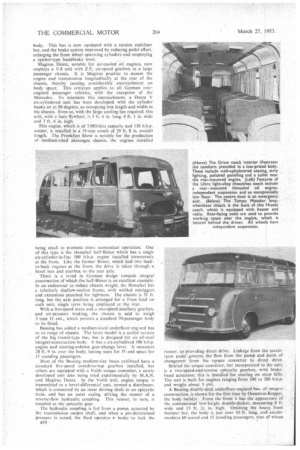 Page 45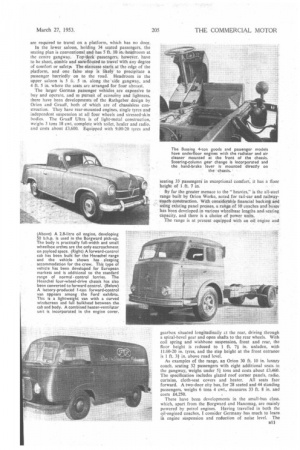 Page 46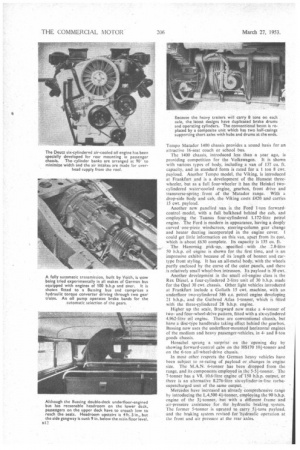 Page 43, 27th March 1953 —
VIANY DIGS IN
Close
By Laurence J. Cotton,
M.I.R.T.E.
ALTHOUGH almost 1,000 buses, coaches, lorries and trailers are exhibited at Frankfurt, there are few radically new designs, the general trend in the past two years, since the last German Show, being to develop alternative engines for goods and passenger models, and increase the payload capacity of lorries and trailers. Cars, commercial vehicles and components are displayed in 22 halls and 10 open parking areas in a site of almost 20 acres, and a thorough investigation of technical developments in every model would occupy the entire 10 days of the Exhibition, which closes next Sunday.
1 learned from the heavy vehicle manufacturers that home requirements are fast becoming fulfilled, and developments have therefore been made to suit conditions of neighbouring European countries and those wider afield. As an indication of this, there has been close study of the construction of light goods vehicles or of uprating existing models, special export cabs being built and medium-sized buses and coaches introduced.
Apart from a Kaelble turbo-supercharged unit, and a new 2-litre engine for a 1k-ton truck, there is little evidence of oil-engine developments. Because of the poor quality of oil fuel in certain areas, German designs adhere to the pre-combustion-type engine.
Until the Show opened, Bussing was alone in the production of German" underfloor oil-engined goods and passenger models, but at the 11th hour Henschel introduced a massive 100-passenger single-decker, with an amidships-mounted 200 b.h.p. unit. This model, aft together with the half-Bimot economy bus and forwardcontrol lorries, attracted crowds to the Henschel stand on the opening day.
Less than two years ago when I visited the Henschel factory, Dr. Schafer, the designer, was convinced that the German rear-engined passenger vehicles were preferable because of weight distribution and low floor height. Market research, together with the additional passenger space afforded by underfloor-engine design, has changed this view and the Henschel HS 200 UN is commendable for weight distribution, having twin tyres at the rear, and for its main-floor height of 2 ft. 10 in. when unladen. It is equipped. with 11.00-20 in. tyres.
To attain the low-floor line, the chassis comprises a main box-section backbone, 12 in. wide and 8i in. deep, replacing the conventional longitudinal on one side, whilst parallel to it is a subsidiary box-section member 7 in. wide and 4 in. deep, which passes over the engine. The frame is a level all-welded unit, with outriggers, the backbone member being ducted to the radiator fan stream, and connected through pipe outlets to the body for warming the saloon. Air for combustion is drawn from the front of the bus, and passed through a cyclone and oil-bath cleaner into the auxiliary frame member, and connected to the intake manifold at the engine bay.
The six-cylindered 13.3-litre oil engine has been specially developed for underfloor mounting, and has three valves per cylinder, the two exhaust valve i being linked by a single rocker attn. Three paired heads are used, and the fuel-injection pump is mounted transversely at the front in similar manner to the A.E.C. and Sentinel. An integral lifting tackle somewhat similar to that fitted on A.E.C. Mark IV chassis is adopted. The engine is arranged with the crankshaft in the centre of the chassis and the heads, facing towards the left-hand side, are outside the auxiliary frame member.
A hydraulic coupling and overdrive box are attached to the engine, and a Wilson four-speed air-operated epicyclic gearbox is mounted separately. The specification of the bus indicates a Z.F. six-speed semi-automatic gearbox, but I was told that the Wilson gearbox has a greater potentiality for export.
The rear axle is a flat double-reduction bevel-spur unit, of David Brown pattern, and the springing incorporates helper leaves. This chassis is still being developed and it is under consideration tooperate the fans electrically to replace the shaft drive at present employed in conjunction with the two radiators. The chassis weight is 5 tons 18 cwt., and with a wheelbase of 19 ft. 2 in. the overall length is 37 ft. 9 in.
It is exhibited with a Kassbohrer 100-passenger body with seats for 29, and a desk in the saloon for a static conductor. The frame rear extension is dropped to provide a low-loading platform of about 64 sq. ft. area and with the additional gangway space afforded by longitudinal seating over the rear arches, up to 40 passengers can be accommodated in the section behind the conductor's desk. The German road regulations permit 8 tons on each axle, but dispensation has been given for the Henschel and others, which carry about 101 tons at the rear.
Other developments in the large-capacity bus include alterations to the Mercedes rear-engined chassis to provide a rear entrance in a transit-type 100-passenger a9
body. This bus is now equipped with a torsion stabilizer bar, and the brake syitem improved by reducing pedal effort. enlarging the front wheel operating cylinders and employing a ratchet-type handbrake lever.
Magirus Deutz, notable for air-cooled oil engines, now employs a V.8 unit with Z.Fr six-speed gearbox in a large passenger chassis. IL is Magirus practice to mount the engine and transmission longitudinally at the rear of the chassis, thereby causing considerable encroachment on body space. This criticism applies to all German rearengined passenger vehicles, with the exception of the Mercedes. To minimize this encroachment, a Deutz V six-cylindered unit has been developed with the cylinder hanks set at 90 degrees, so occupying less length and width in the chassis. Even so, with the large cooling fan required, this unit, with a bare flywheel, is ,3 ft. 6 in. long, 4 ft. 1 in. wide and 3 ft. 4 in. high.
This engine, which is of 7.983-litre capacity and 130 b.h.p. output, is installed in a 35-seat coach of 29 ft. 8 in. overall length. The Frankfurt Show is notable for the production of medium-sized paisengee chassis, the engines installed being small to promote More economical operation. One of this type is the Henschel half-Biniot which has a single six-cylinder-in-line 100 b.h.p. engine installed transversely at the front. Like the former Biwa, which had two backto-back engines at the front, the drive is taken through a bevel box and gearbox to the rear axle..
There is a trend in German design towards integral construction of which the half-Bimot is an excellent example. In art endeavour to reduce chassis weight. the Henschel has a relatively shallow-section frame, with welded outriggers and extensions punched for lightness. The chassis is 31 ft. long, but the axle position is arranged for a 5-ton load on each unit, single tyres being employed at the rear.
With a five-speed main and a two-speed auxiliary gearbox, and air-pressure braking. the chassis is said to weigh 3 tons II cwt., which permits a standard 70-passenger body to be fitted.
Bussing has added a medium-Sized underfloor-engined bus to its range of chassis. The latest model is a scaled version of the big transit-type bus, but is designed for an all-steel integral-construction body. It has a six=cylindered 100 b.h.p. engine and steering-column gear-change lever. It measures 28 ft. 9 in. over the body, having seats for 35 and space for 15 standing passengers.
Most of the Bussing medium-size buses exhibited have a standard live-speed overdrive-top gearbox installed, but others are equipped with a Voith torque converter, a newly developed unit also being tried experimentally by M.A.N. and Magirus Deutz. In the Voith unit, engine torque is transmitted to a bevel-differential unit, termed a distributor, which is connected by an inner driving shaft to an epicyclic train, and has an outer casing, driving the runner of a reverse-flow hydraulic coupling. This runner, in turn, is coupled to the epicyclic gear.
The hydraulic coupling is fed from a pump, actuated by the transmission output shaft, and when a pre-determined pressure is raised, the fluid .operates k brake to lock the
n10 rOnner, so providing direct drive. Linkage from the accelerator pedal governs the flow from the pump and point of changeover from the turque converter to direct drive. Behind the torque converter, but incorporated in the unit, is a two-speed-and-reverse epicyclic gearbox, with brake
band actuation: this is installed for starting on steep hills. The unit is built for engines ranging from 100 to 200 b.h.p. and weighs about 5 cwt.
A Bussing double-deck underfloor-engined bus, of integral construction, is shown for the first time by Orenstein-Koppel. the body build.2r. From the front it has the appearance of the conventional low-height double-decker, measuring 8 ft. wide and 13 ft. 31 in. high. Omitting the heavy front bumper, bar, the body is just Over 33-ft. long, and accornmodates 60 seated and 15 standing passengers, nine of whom are required to travel on a platform, which has no door.
In the lower saloon, holding 34 seated passengers, the seating plan is conventional and has 5 ft. 10 in.-headroom at the centre gangway. Top-deck passengers, however, have to be short, nimble and sure-footed to travel with any degree of comfort or safety4 The staircase starts at the edge of the platform, and one false step is likely • to precipitate a passenger hurriedly on to the road, Headroom in the upper saloon is 5 ft. 5 in. along the 'side gangway, and 4 ft. 5 in. where the seats are arranged for four abreast
The larger German passenger vehicles are expensive to buy and operate, and in pursuit of economy and lightness, there have been developments of the Rathgeber design by Orion and Graatl, both of which are of ehassisless construction. They have rear-mounted engines, single tyres and independent suspension at all four wheels and stressed-skin bodies. The Graaff Ultra is of light-metal construction, weighs 3 tons 18 cwt. complete With toilet, healer and radio, and costs about £3,600. Equipped with 9.00-20 tyres and seating 33 passengers in exceptional comfort, it has a floor height of I ft. 7 in.
By far the greater menace to the " heavies," is the all-steel range built by Orion Werice, noted for rail-car and railwaycoach construction. With consideeable financial backing and using existing panel presses, a ratige,of 10 coaches and buses has been developed in various wheelbase lengths and seating capacity, and there is a choice of power units.
The range is at present equipped with an oil engine and gearbox situated longitudinally at the rear, driving through a spiral-bevel gear and open shafts to the rear wheels. With coil spring and wishbone suspension, front and rear, the floor height is reduced to 1 ft. 7f in. unladen, with 11.00-20 in. tyres, and the step height at the front entrance is 1 ft. 3t in. above road level.
As examples of the range, an Orion 30 ft. 10 in. luxury coach, seating 32 passengers with eight additional seats in the gangway, weighs under 51 tons and costs about £3,460. The specification includes glazed roof corner panels, radio, curtains, cloth-seat covers and heater. All seats face forward. A two-door city bus, for 28 seated and 44 standing passengers, weighs 6 tons 4 cwt., measures 33 ft. 8 in. and costs £4,250.
There have been developments in the small-bus class, which, apart from the Borgward and Hanomag, are mainly powered by petrol engines. Having travelled in both the qil-engined coaches, I. consider Germany has much to learn in engine suspension and reduction of noise level. The Tempo Matador 1400 chassis provides a sound basis for an attractive 16-seat coach or school bus.
The 1400 chassis, introduced less than a year ago, is providing competition for the Volkswagen. it is shown with various types of body, including a van of 137 Cuft. capacity, and in standard form is rated for a 1 ton 8 cwt. payload. Another Tempo model, the Viking, is introduced at Frankfurt and is a development of the Hanseat threewheeler, but as a full four-wheeler it has the Heinkel twocylindered water-cooled engine, gearbox, front drive and transverse-spring front of the Matador range. With a drop-side body and cab, the Viking costs £420 and carries 15 cwt. payload.
Another new panelled van is the Ford I-ton forwardcontrol model, with a full bulkhead behind the cab, and employing the Taunus four-cylindered 1.172-litre petrol engine. The Ford is modern in appearance, having a deeply curved one-piece windscreen, steering-column gear change and heater ducting incorporated in the engine cover. I. could get little information on this van, apart from its cost, which is about £630 complete. Its capacity is 135 cu. ft.
The Hanoing pick-up, _specified with _the 2.8-litre 50 b.h.p. oil engine is shown for the first time, and is an impressive exhibit because of its length of bonnet and cartype front styling. It has an all-metal body, with the wheels partly enclosed by the curve of the outer panels, and there is relatively small wheel-box intrusion. Its payload is 30 cwt. Another development in the small oil-engine class is the Rex Diesel, a four-cylindered 2-litre unit of 30 b.h.p. made for the Opel 30 cwt. chassis. Other light vehicles introduced at Frankfurt include a Goliath 15 cwt. machine, with an underfloor two-cylindered 586 c.c. petrol engine developing 21 b.h.p., and the Gutbrod Atlas 1-tonner, which is fitted with the three-cylindered' 28 b.h.p. engine.
Higher up the scale, Borgward now make a 4-tonner of twoand four-wheel-drive pattern, fitted with a six-cylindered 4.962-litre oil engine. These are conventional chassis, but have a disc-type handbrake taking effect behind the gearbox. Bussing now uses the underfloor-mounted horizontal engine of the medium and heavy passenger-vehicles, in 4and 8-ton goods chassis.
Henschel sprang a surprise on the opening day by showing forward-control cabs on the HS170 101-tanner and on the 6-ton all-wheel-drive chassis.
In most other respects the German heavy vehicles have been subject to re-rating of payload or changes in engine size. The M.A.N. 6-tonner has been dropped from the range, and its components employed in the 5-5rtonner. The 7-tonner has a V8. 10.6-litre engine or150 b.h.p. output, or there is an alternative 8.276-litre six-cylinder-in-line turbosupercharged unit of the same output.
Mercedes have increased an already comprehensive range by introducing the L.4,500 4t-tonner, employing the 90 b.h.p. engine of the 31.-tonner, but with a different frame and air-pressure sssistance for the hydraulic braking system. The former 5-tonner is uprated to carry 5,1.-tons payload, and the braking system revised for 'hydraulic operation at the front and air pressure at the rear axles.