Latest News of Fares
27th March 1953
Page 40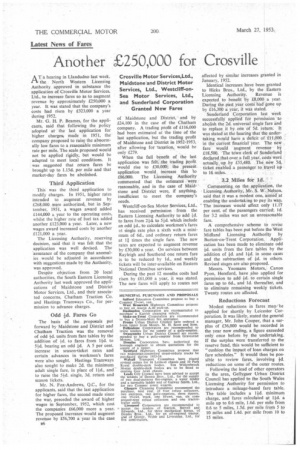 Page 40, 27th March 1953 —
Latest News of Fares
Close
Another £250,000 for Crosville
Crosville Motor Services,Ltd., Maidstone and District Motor Services, Ltd., Westcliff-onSea Motor Services, Ltd., and Sunderland Corporation Granted New Fares AT a hearing in Llandudno last week, the North Western Licensing Authority approved in substance the application of Crosville Motor Services. Ltd., to increase fares so as to augment revenue by approximately £250,000 a year. It was stated that the company's costs had risen by £323,000 a year during 1952.
Mr. G. H. P. Beames, for the applicants, said that following the policy adopted at the last application for higher charges, made in 1951, the company proposed to raise the abnormally low fares to a reasonable minimum rate per mile. The scale proposed would not be applied rigidly, but would be adapted to meet local conditions. It was suggested that return fares be brought up to I.15d. per mile and that market-day fares be abolished.
Third Application
This was the third application to modify charges. In 1951, higher rates intended to augment revenue by £268,000 . were authorized, but in September, 1951, a wages award added £144,000 a year to the operating costs, whilst the higher rate of Wel tax added another £123,000 a year. Later, a new wages award increased costs by another £121,000 a year.
The Licensing Authority, reserving decision, said that it was felt that the application was well devised. The assurance of the company that anomalies would be adjusted in accordance with suggestions made by the Authority, was approved.
Despite objection from 20 local authorities, the South Eastern Licensing Authority last week approved the applications of Maidstone and District Motor Services, Ltd., and their associated concerns, Chatham Traction Co. and Hastings Tramways Co., for permission to advance charges.
Odd id. Fares Go
The basis of the proposals put forward by Maidstone and District and Chatham Traction was the removal of odd id. units from fare tables by the addition of id. to fares from tid. to 51-rl, bearing an odd id. A 5 per cent, increase in season-ticket rates and certain advances in workmen's fares were also sought. Hastings Tramways also sought to make 2d. the minimum adult single fare, in place of lid., and to raise the 5id. single, 3d. return and season tickets.
Mr. N. Fox-Andrews, Q.C., for the applicants, said that the last application for higher fares, the second made since the war, preceded the award of higher wages in September, 1952, which cost the companies £66,000 more a year. The proposed increases would augment revenue by £56,700 a year in the case 56
of Maidstone and District, and by £24,100 in the case of the Chatham company. A trading profit of £116,000 had been estimated at the time of the last application, but the trading profit of Maidstone and District in1952-1953, after allowing for -taxation, would be only £279.
When the full benefit of the last application was felt, the trading profit would rise to £30,000; the present application would increase this to £86,000. The Licensing Authority commented that the estimates were reasonable, and in the case of Maidstone and District were, if anything, insufficient to meet the company's needs.
Westcliff-on-Sea Motor Services, Ltd., has received permission from the Eastern Licensing Authority to add id. to fares from 2id. to 51d. which include an odd id., to calculate workmen's fares at single rate plus a sixth with a minimum of 6d., and ordinary return fares at 11 times the single fare. The new rates are expected to augment revenue by £30,000 a year. On services between Rayleigh and Southend one return fare is to be reduced by td., and weekly tickets will be inter-available on Eastern National Omnibus services.
During the past 12 months costs had risen by £61,000 a year, it was stated. The new fares will apply to routes not affected by similar increases granted in January, 1952.
Identical increases have been granted to Hicks Bros., Ltd., by the Eastern Licensing Authority. Revenue is expected to benefit by £8,000 a year. During the past year costs had gone up by £16,300 a year, it was stated.
Sunderland Corporation last week successfully applied for permission to abolish the 2d. universal single fare and to replace it by one of 5d. return. It was stated at the hearing that the undertaking would have a deficit of £11,000 in the current financial-year. The new fare would augment revenue by £18,500. The town clerk of Sunderland declared that over a full year, costs were actually , up by £55,480. The new 5df ticket enabled a passenger to travel up to 16 miles.
3.2 Miles for id.
Commenting op the application, the Licensing Authority, Mr. S. W. Nelson. said that it was a modest one, aimed at enabling the undertaking to pay its way. The increases would affect only 11.11 per cent. of the passengers carried; Id. for 3.2 miles was not an unreasonable fare.
A comprehensive scheme to revise fare tables has been put before the West Midland Licensing Authority by Burton-on-Trent Corporation. Application has been made to eliminate odd Id. units from the fare tables by the addition of id. and 14d. in some cases and the subtraction of id. in others. Revised stages are also proposed.
Messrs. Yeomans Motors, Canon Pyon, Hereford, have also applied for permission to add id. to certain single fares up to 6d., and Id. thereafter, and to eliminate remaining weekly tickets. Twenty routes are affected.
Reductions Forecast
Modest reductions in fares may/be applied for shortly by Leicester Corporation. It was likely, stated the general manager, Mr. John Cooper, that a surplus of £36,000 would be recorded in the year now ending, a figure exceeded only once before by the undertaking. If the surplus were transferred to the reserve fund, this would be sufficient to "cushion the impact of loan charges on fare schedules." It would then be possible to review fares, involving id. reductions on some of the outer routes.
Following the lead of other operators in the area, Gellygaer Urban District Council has applied to the South Wales Licensing Authority for permission to introduce a mileage-based fare table. The table includes a lid, minimum charge, and fares calculated at lid, a mile up to 0.6 mile, I.6d. per mile from 0.6 to 5 miles, 1.5d. per mile from 5 to 10 miles and 1.4d. per mile from 10 to 15 miles.