Trent Company's Taxation Higher
27th March 1953
Page 36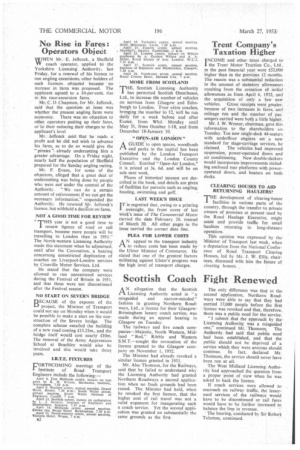 Page 36, 27th March 1953 —
Trent Company's Taxation Higher
Close
1 INCOME and other taxes charged to the Trent Motor Traction Co., Ltd.. in the past financial year were £52,000 higher than in the previous 12 months. The reason was a substantial reduction in the amount of statutory allowances resulting from the cessation of initial allowances as from April 6, 1952, and the acquisition of only a few new vehicles. Gross receipts were greater. because of two increases in fares, and • mileage run and the number of passengers carried were both a little higher,
Mr. J. W. Womar, chairman, gave thii information to the shareholders on Tuesday. Ten new single-deck 44-seaters with underfloor engines set a new standard for stage-carriage services, he
claimed. The vehicles had improved suspension, power-operated doors and air conditioning. New double-deckers would incorporate improvements including enclosed rear platforms with poweroperated doors, and heaters on both decks.
CLEARING HOUSES TO AID RETURNING HAULIERS?
THE development of clearing-house facilities in various parts of the country, through the transfer to private owners of premises at present used by the Road Haulage Executive. might assist and provide traffic for small hauliers returning to long-distance operation.
This opinion was expressed by the Minister of Transport last week, when a deputation from the National Conference of . Road Transport Clearing Houses, led by Mr. J. W. Ellis, chairman, discussed with him the future of clearing houses,