Scottish Coach Fight Renewed A N allegation that the Scottish
27th March 1953
Page 36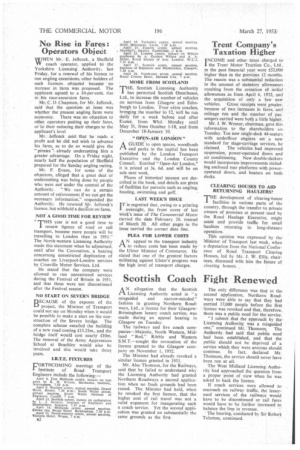 Page 36, 27th March 1953 —
Scottish Coach Fight Renewed A N allegation that the Scottish
Close
Licensing Authority acted in "a misguided and narrow-minded" fashion in granting Northern Roadways, Ltd., a licence for their GlasgowBirmingham luxury coach service, was made during an appeal hearing in Glasgow on Tuesday.
The railways and five coach companies—Majestic, North Western, Midland "Red," Ribble and Western S.M.T.—sought the revocation of the licence granted to the Glasgow company on November 1, 1952.
The Minister had already revoked a similar licence granted in 1951.
Mr. Alec Thomson. for the Railways, said that he failed to understand why the Licensing Authority had granted Northern Roadways a second application when no fresh grounds had been raised. The Minister had held, when he revoked the first licence, that the higher cost of rail travel was not a valid argument for inaugurating such a coach service. Yet the second application was granted on substantially the same grounds as the first. The only difference was that in the second application, Northern Roadways were able to say that they had carried 17,000 people before the first licence was revoked and that, therefore, there was a public need for the service.
"1 submit. that the approach by the Licensing Authority was a misguided one," continued Mr. Thomson. The Authority had said that public need had been established, and that the public should not be deprived of a service which they were anxious should continue. In fact, declared Mr. Thomson, the service should never have been run at all.
The West Midland Licensing Autho .
rity had approached the question from a proper point of view when he was asked to back the licence.
If coach services were allowed to encroach on railway traffic, the lesserused services of the railways would have to be discontinued or rail fares would have to be further increased to balance the loss in revenue.
The hearing, conducted by Sir Robert Tolerton, continued.