NQ Rise in Fares : Operators Object
27th March 1953
Page 36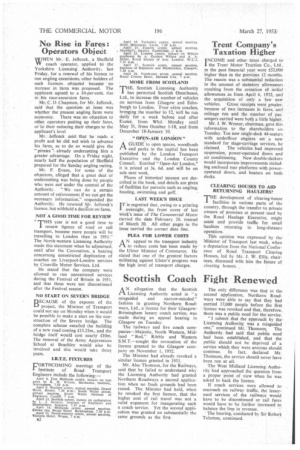 Page 36, 27th March 1953 —
NQ Rise in Fares : Operators Object
Close
WJHEN Mr.E. Jefleock. a Sheffield W coach operator, applied to the Yorkshire Licensing Authority, last Friday, for a renewal of his licence to run angling excursions, other holders of such licences objected because no increase in tares was proposed. The applicant agreed to a 10-per-cent. rise in his race-excursion fares.
Mr. C. D. Chapman, for Mr. Jeffcock, said that the question at issue was whether the present angling fares were economic. There was no objection to other, operators putting up their fares, orto their reducing their charges to the applicant's level
Mr. Jeffcock said that he made a profit and he did not wish to advance his fares, as to do so would give the " pirates". already undercutting him a greater advantage. On a Friday night, nearly half the population of Sheffield prepared for the Sunday angling outing.
Mr. F. Evans, for some of the objectors, alleged that a great deal of undercutting was being done by people who were not' under the control of the Authority. " We can do a certain amount of enforcement if we can get the necessary information," responded the Authority, He renewed Mr. Jeffeock's licence, but withheld a deciton on fares.
NOT A GOOD TIME FOR REVIEW
THIS year is not a good time to Teytew figures of road or rail transport, because more people will he travelling to London than in 1951." The North-western Licensing Authority made this statement when he adjourned, until after the Coronation, a hearing concerning unrestricted duplication of coaches on Liverpool-London services by Crosville Motor Services. Ltd.
He stated that the company were allowed to run unrestricted services during the Festival of Britain in 1951. and that these were not discontinued after the Festival season.
NO START ON SEVERN BRIDGE
BECAUSE of the expense of the project, the Minister of Transport could not say on Monday when it would be possible to make a start on the construction of the Severn bridge. The complete scheme entailed the building of a new road costing £15.25m., and the bridge itself would cost nearly £10m. The removal of the Army Apprentices School at Bcachley would also be involved and this would take three years.
FIXTURES
rORTHCOMING meetings of the
I Institute of Road Transport Engineers include the following:— April 8. East Midlands centre, lecture on rear axles by R. H. Wilson, Mechanics Institute, Nottingham, 7.30 p.m.
April 9. Western centre, annual meeting, Grand Hotel. Bristol, 7.30 p.m.; South Wales group, annual meeting, South Wales institute of Engineers, Cardiff, 7 p.m.
April 13, Scottish centre, lecture on carburation by L. J. Spencer, Institute of Engineers and Shipbuilders. Glasgow. 7.30 p.m.. April 14, Midlands centre, -annual meeting; Crown Inn, Broad Street Birmingham, 7.30 p.m. April IS, North-western centre, annual meeting. Victoria Hotel. Wigan, 7 p.m. April 16. Yorkshire centre, annual meeting Hotel Metropole, Leeds 7.30 p.m.
April 21, Eastern Centre, annual meeting. Marshall'sAirport, Cambridge, 77 15.m.
April. 23, London centre, lecture on Wilson gearboxes by A. Gordon Wilson and A. A. Miller, Royal Society of Arts. London, W.C.2. 7.15 p.m. April 27, Scottish centre, annual meeting, Institute of Engineers and Shipbuilders. Glasgow, 7.30 p.m. April 28. North-cast group, annual meeting. Royal County Hotel, Durham City, 7 p.m,
• MORE FROM SCOTLAND
THE. Scottish Licensing Authority has permitted Scottish Omnibuses, Ltd., to increase the number of vehicles on services from Glasgow and Edinburgh to London. 'Four extra coaches, bringing the number to -12, will be run daily for a week before and after Easter, from Whit Monday until May 31, from October 1-18, and from December 18-January 10.
"OPEN-AIR LONDON"
AGUIDE to open spaces, woodlands and parks in the capital has been published by the London Transport Executive and the London County Council. Entitled "Open-Air London," it is priced at 3s. 6d. and will be on sale next week.
Places of historical interest are described in the book, and details are given of facilities for pursuits such as angling, boating, swimming and golf.
LAST WEEK'S ISSUE
I T is regretted that, owing to a printing oversight, the front cover of last week's issue of The Commercial Motor carried the date February 20, instead of March 20. All other pages in the issue carried the correct date line.
PLEA FOR LOWER COSTS
AN appeal to the transport industry to reduce costs has been made by the Ulster Minister of Commerce. He stated that one of the greatest factors militating against Ulster's' progress was the high level of transport charges.
Tags
Organisations
:
London County Council
,
Institute of Road Transport Engineers
,
Institute of Engineers
,
Institute of Engineers and Shipbuilders
,
Army Apprentices School
,
Eastern Centre
,
Scottish Licensing Authority
,
Royal Society of Arts
,
Mechanics Institute
,
North-western Licensing Authority
,
Yorkshire Licensing Authority
Locations
:
Durham City
,
Cambridge
,
Cardiff
,
Leeds
,
Sheffield
,
Glasgow
,
Nottingham
,
London
,
Birmingham
,
Liverpool
,
Bristol
,
Edinburgh