Regret Over Royal Show Decision
27th March 1953
Page 35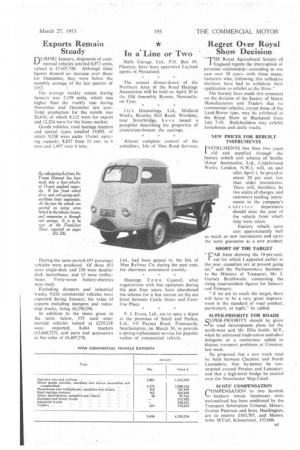 Page 35, 27th March 1953 —
Regret Over Royal Show Decision
Close
" THE Royal Agricultural Society of
1 England regrets the interruption of personal relationship—extending in one case over 50 years--with those manufacturers who, following this collective decision, have had to withdraw their application to exhibit at the Show."
The Society have made this comment on the decision of the Society of Motor Manufacturers and Traders that ro commercial vehicles, except those of the Land-Rover type, may he exhibited at the Royal Show at Blackpool from July 7-10. Bodybuilders may exhibit horseboxes and cattle trucks.
NEW PRICES FOR REBUILT INSTRUMENTS
I NSTRUMENTS less than two years old and supplied through the
factory rebuilt unit scheme of Smiths Motor Accessories, Ltd., Crick lewood Works, London, N.W.2, will, on and after April I, be priced at about 20 per cent. less than older instruments. There will, therefore, be two scales of charges, and customers sending instruments to the company's • service department should state the year of the vehicle from which they were taken.
Factory rebuilt units cost approximately half as much as new instruments and carry the same guarantee as a new product.
SHORT OF THE TARGET "EAR from showing the 10-per-cent.
cut for which 1 appealed earlier in the year, casualties arc at present going up," said the Parliamentary Secretary to the Ministry of Transport, Mr. .1. Gurney Braithwaite. concerning the rising road-accident figures for January arid February.
"if we are to reach the target, there will have to be a very great improvement in the standard of road conduct, particularly at night," he added.
SUPER-PRIORITY FOR ROADS QUPER-PRJORITY should be given
to road development plans for the north-west said Mr. Ellis Smith, M.P.. when he addressed trade-union and other delegates at a conference called to discuss transport problems at 1.Jrmston, last week.
He proposed that a new trunk road be built between Cheshire and North Lancashire, that by-passes be constructed around Preston and Lancaster. and that a high-level bridge be erected over the Manchester Ship Canal.
SCOTS COMPENSATION COMPENSATION to two Scottish hauliers whose businesses were nationalized has been confirmed by the Transport Arbitration Tribunal. Messrs. George Paterson and Sons, Haddington, are to receive £103,707, and Messrs. John AirCall, Kilmarnock, £52,000. nI