Minister Reverses Camp Decision
27th March 1953
Page 32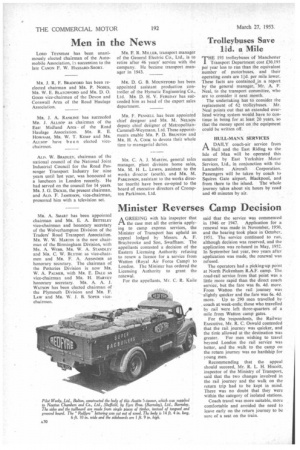 Page 32, 27th March 1953 —
Minister Reverses Camp Decision
Close
AGREEING with his inspector that the case met all the criteria applying to camp express services. the Minister of Transport has upheld an appeal lodged by Messrs. A. F. Braybrooke and Son. Swaffham. The appellants contested a decision of the Eastern Licensing Authority refusing to renew a licence for a service from Watton (Royal Air Force Camp) to London, The Minister has ordered the Licensing Authority to grant the renewal.
For the appellants, Mr, C. R. Kaile said that the service was commenced in 1946 or 1947. Application for a renewal was made in November, 1950. and the hearing took place in October, 1951. The service continued to run, although decision was reserved, and the application was re-heard in May, 1952. In September last year, two years after application was made, the renewal was refused.
The operators had a picking-up point at North Pickenham R.A.F. camp. The road-rail service from that point was a little more rapid than the direct coach service, but the fare was 8s. 4d. more. From Watton the rail journey was • slightly quicker and the fare was 6s. 4d. more. Up to 290 men travelled by , coach at week-ends; those who travelled by rail were left three-quarters of a mile from Watton camp gates.
For the respondents, the Railway Executive, Mr. R. C. Oswald contended that the rail journey was quicker, and the tinie allowed at the destination was greater. For men wishing to travel beyond London the rail service was better, and the walk to the camp on the return journey was no hardship for young men.
Recommending that the appeal should succeed, Mr. R. L. H. Hiscott, inspector of the Ministry of Transport, said that the two changes involved in the rail journey and the walk on the return trip had to be kept in mind. There was no doubt that they were within the category of isolated stations.
Coach travel was more suitable, more comfortable and avoided the need to leave early on the return journey to be sure of a seat on the train.