Men in the News
27th March 1953
Page 32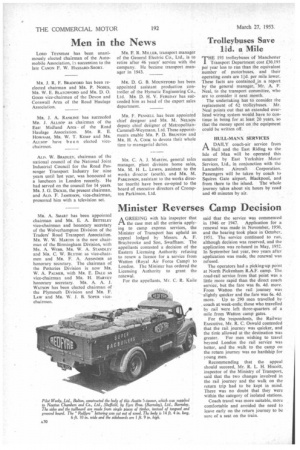 Page 32, 27th March 1953 —
Men in the News
Close
LORD TEYNHAM has been unanimously elected chairman of the Automobile Association, in succession to the WC CANON F. W. HASSARD-SHORT.
MR. J. R. F. BRADFORD has been reelected chairman and MR. P. NODES, MR. W. E. BLAICHFORD and MR. D. 0. Goon vice-chairmen of the Devon and Cornwall Area of the Road Haulage Association.
MR. J. A. RANKINE. has succeeded MR. J. ALLSOP as chairman of the East Midland Areaof the Road Haulage Association. MR. R. E. HOWSAM. MR. W. T. KEMP and MR. Au.sor have been elected vicechairmen.
Au). W. BRADLEY, chairman of the national council of the National Joint Industrial Council for the Road Passenger Transport Industry for nine years until last year, was honoured at a luncheon in London recently. Ile had served on the council for 14 years, Ma. J. G. MCKIE, the present chairman, and Ate. F. IshansoN, vice-chairman, presented him with a television set.
MR. A. SMART has been appointed chairman and MR. E. A. BETTELEY vice-chairman and honorary secretary of the Wolverhampton Division of the Traders' Road Transport Association. MR. W. W. MARTIN is the new chairman of the Birmingham Division, with MR. A. WEBB, MR. W. A. STANDLEY and MR. C. W. BLYTHE as vice-chairmen and MR. F. A. AssitenEa as honorary secretary. The chairman of the Potteries Division is now MR. W. A. PALMER, with MR. E. DALE as vice-chairman and MR. H. HARVEY honorary secretary. MR. A. A. J. WATSON has been elected chairman of the Plymouth Division and MR. F. LAW and MR. W. J. B. SUPER vicechairmen. MR. F. R. MILLER, transport manager of the General Electric Co., Ltd., is to retire after 46 years' service with the company. He became transport manager in 1943.
MR, D. G. B. MOUNTFORD has been appointed assistant production controller of the Hymatic Engineering Co., Ltd. MR D. H. V. FEREDAY has Succeeded him as head of the export sales department.
MR. F. PENNELL has been appointed chief designer and MR. M. NELSON deputy chief designer of MetropolitanCammell-Weymann, Ltd. These appointments enable MR. P. D. BRUNTON and MR. H. A. COOK to devote their whole time to managerial duties.
MR. C. A. J. MARTIN, general sales manager. plant division home sales, MR. M. H. L. LEWIS, assistant to the works director (south), and MR, M. PARKINSON, assistant to the works director (north) have been co-opted to the board of executive directors of Crompton Parkinson, Ltd.
Tags
People
:
P. NODES
,
A. SMART
,
H. L. LEWIS
,
W. T. KEMP
,
W. A. PALMER
,
W. BRADLEY
,
J. G. MCKIE
,
P. D. BRUNTON
,
G. B. MOUNTFORD
,
J. ALLSOP
,
A. WEBB
,
R. E. HOWSAM
,
M. NELSON
,
F. LAW
,
H. HARVEY
,
M. PARKINSON
,
C. W. BLYTHE
,
H. A. COOK
,
W. E. BLAICHFORD
,
F. PENNELL
,
A. J. MARTIN
,
F. R. MILLER
,
E. A. BETTELEY
,
J. A. RANKINE
,
W. A. STANDLEY
,
W. W. MARTIN
,
Au