One Hears
27th March 1953
Page 29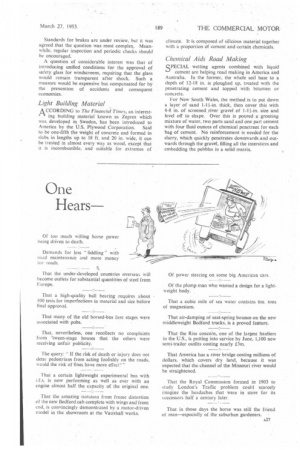 Page 29, 27th March 1953 —
One Hears
Close
Of too much willing horse power being driven to death.
Demands for less " fiddling " with road maintenance and more money for roads.
That the under-developed countries overseas will become outlets for substantial quantities of steel from Europe.
That a high-quality ball bearing requires about 100 tests for imperfections in material and size before final approval.
That many of the old horsed-bus fare stages were associated with pubs.
That, nevertheless, one recollects no complaints from 'tween-stage houses that the others were receiving unfair publicity.
The query: "If the risk of death or injury does not deter pedestrians from acting foolishly on the roads, would the risk of fines have more effect?
That a certain lightweight experimental bus with i.f.s. is now performing as well as ever with an engine almost half the capacity of the original one.
That the amazing isolation from frame distortion of the new Bedford cab complete with wings and front end, is convincingly demonstrated by a motor-driven model in the showroom at the Vauxhall works.
Of power steering on some big American cars.
Of the plump man who wanted a design for a lightweight body.
That a cubic mile of sea water contains 6m. tons of magnesium.
That air-damping of seat-spring bounce on the new middleweight Bedford trucks, is a proved feature.
That the Riss concern, one of the largest hauliers in the U.S., is putting into service by June, 1,100 new semi-trailer outfits costing nearly Dm.
That America has a river bridge costing millions of dollars, which covers dry land, because it was expected that the channel of the Missouri river would be straightened.
That the Royal Commission formed in 1903 to study London's Traffic problem could scarcely imagine the headaches that were in store for its successors half a century later.
That in those days the horse was still the friend of man—especially of the suburban gardeners.