Amend Section 11, Says C.M.U.A.
27th March 1936
Page 40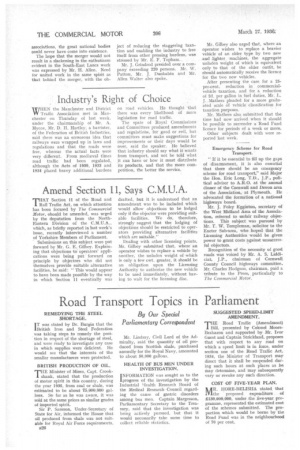 Page 40, 27th March 1936 —
Amend Section 11, Says C.M.U.A.
Close
'THAT Section 11 of the Road and i Rail Traffic Act, an which attention has been focused by The Cormueriial Motor, sshould be amended, was urged by the deputation from the NorthEastern Division of the C.M.U.A., which., as briefly reported in last week's issue, recently interviewed a number of Yorkshire Members of Parliament.
Submissions on this subject were put forward by Mr. G. E. Gilbey. Explaining that objections to operators' applications were being put forward on principle by objectors who did not themselves provide suitable alternative facilities, he said: "This would appear to have been made possible by the way in which Section 11 eventually was
drafted, but it is understood that an amendment was to be included which would allow objections to be lodged only if the objector were providing suitable facilities. We do, therefore, strongly suggest that the lodging of objections should be restricted to operators providing alternative facilities
which are suitable." .
Dealing with other licensing points, Mr. Gilbey submitted that, where an operator wishes to replace a vehicle by another, the unladen weight of which is only a few cwt. greater, it should be an obligation upon the Licensing Authority to authorize the new vehicle to be used immediately, without having to wait for the licensing disc.