C-Licensee Must Prepare for Attack
27th March 1936
Page 39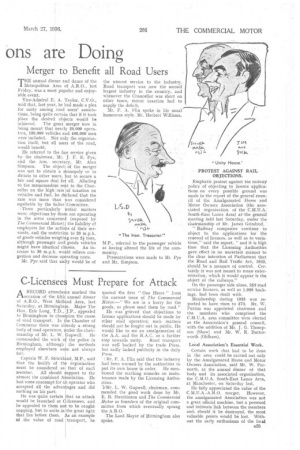 Page 39, 27th March 1936 —
C-Licensee Must Prepare for Attack
Close
Keywords :
ce marked the annual dinner nd Area, last . Major The J.P., appealed pion the cause e Chamber of ady a strong body of road operators, under the chairmanship of Mr. L. W. Gupwell. He commended the work o the police in Birmingham, although the methods employed elsewhere we e not always fair, Captain W. F. Strickl nd, M.P., said that the health of the organization must be considered as that of each member. All should support to the utmost the combined Association. He had some contempt for aji operator who accepted all the advantages and did nothing on his part.
He was quite certain that an attack would be launched at C-licensees, and he appealed to them not to be caught napping, but to unite in the great fight that lies before them. As an example of the value of road transport, he
A RECORD attenda 1–Voccasion of the fifth of A.R.O., West Mid Saturday, at Birmingha Hon. Eric Long, T.D., to Birmingham to chair of road transport. In Commerce there was al quoted the first " One Hears " from the current issue of The Commercial Motor:—" We are in a hurry for the goods, so please send them by road."
He was grieved that objections to licence applications should be made by other road operators; such matters should not be fought out in public. He would like to see an amalgamation of the A.A. and the R.A.C. as a further step towards unity. Road transport was welt backed by the trade Press, but sadly lacked publicity in the daily Press.
c Mr. F. A. FIM said that the industry had been warned by the authorities to put its own house in order. He mentioned the scathing remarks on maintenance made by the Licensing Authorities.
''Mr. L. W. Gupwell, chairman, commended the good work done by Mr. E. B. Hutchinson and The Commercial Motor as founders of the original committee from which eventually sprang the A.R.O.
The Lord Mayor of Birmingham also spoke.