HAULIER'S 2,000-MILE DASH BY AIR.
27th March 1936
Page 37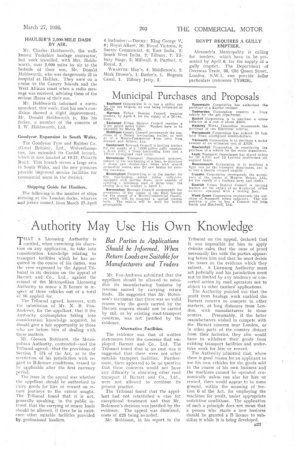 Page 37, 27th March 1936 —
HAULIER'S 2,000-MILE DASH BY AIR.
Close
Mr. Charles Holdsworth, the wellknown Yorkshire haulage contractor, last week travelled, with Mrs. Holdsworth, over 2,000 miles by air to the bedside of their son, Mr. Donald Holdsworth, who was dangerously ill in hospital at Halifax. They were on a cruise to the Canary Islands and the West African coast when a radio message was received, advising them of the serious illness of their son.
Mr. Holdsworth informed a correspondent, this`week, that his son's conditiOn showed a slight iinProVement. Mr. Donald Holdsworth is, like his father, a member of the concern of L. W. Holdsworth, Ltd.
Goodyear Expansion in South Wales,.
The Goodyear Tyre and Rubber Co. (Great Britain), Ltd., Wolverhampton, has extended its Cardiff branch, which is now located at 19-21. Penarth Road. This branch serves a large area in South Wales, and the new premises provide improved service facilities for commercial users in the district.
• Shipping Guide for -Hauliers.
The folloWing is the number of ships arriving at the London docks, wharveS and jetties. named, from March 27-April
4 inclusive l—DOCKS : King George V, 8; Royal Albert, 10; Royal Victoria, 5; Surrey Commercial, 6; East India, 2: South West India, 2; Tilbury, 7; Tilbury Stage, 2; Millwall, 3; Purfleet, 1; Royal, 3.
WHARVES: Hay's, 4; Middleton's, 2; Mark Brown's, 1; Butler's, I. Regents Canal, 1. Tilbury Jetty, 2.
EGYPT REQUIRES A GULLY EMPTIER.
Alexandria Municipality is calling for tenders, which have to be presented by April 6, for the supply of a. gully emptier. The Department of Overseas Trade, 35, Old Queen Street, London, S.W.1, can provide fuller particulars (reference TY5828).