The Act Tolerated on Sufferance !
27th March 1936
Page 35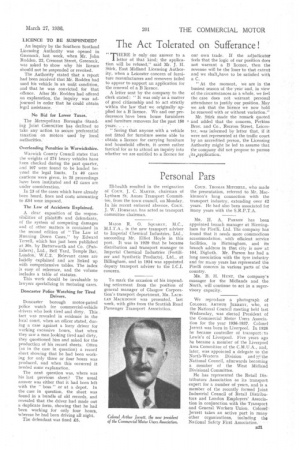 Page 35, 27th March 1936 —
The Act Tolerated on Sufferance !
Close
i-rillERE is only one answer to a 1 letter of that kind; the application will be refused," said Mr. J. H. Stirk, East Midland Licensing Authority, when a Leicester concern of furniture manufacturers and removers failed to appear to support an application for the renewal of a B licence.
A letter sent by the company to the clerk stated: " It was only as a matter of good citizenship and to act strictly within the law that we originally applied for a B licence. We and our predecessors have been house furnishers and furniture removers for the past 150 " Seeing that anyone with a vehicle not fitted for furniture seems able to obtain a licence for carrying furniture and household effects, it seeifiS rather farcical for us to attend an inquiry into whether we are entitled to a licence for our own trade. If the adjudicator feels that the logic of our position does not warrant a B licence, then the revenue will be the loser to that extent and we shall,have to be satisfied with a C.
"At the moment, we are in -the busiest season of the 'yearand, in view of the circumstances as a whole, we feel the case does not warrant personal attendance to justify our position. May we ask that the licence we now hold be renewed with or without variation."
Mr. Stifle Made the remark quoted and added that the concern, Perkins Bros. and Co., Recross Street, Leicester, was informed by letter that, if it were not represented at the traffic court by an accredited person, the Licensing Authority might be led to assume that the company did not propose to pursue tits ,application.