Owner-driver Slavery
27th March 1936
Page 31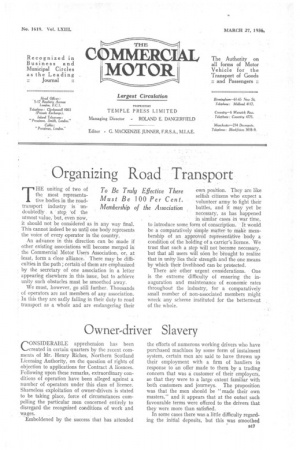 Page 32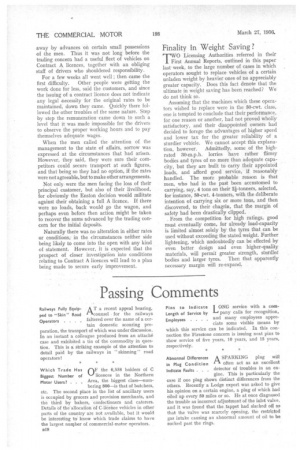 Page 31, 27th March 1936 —
Owner-driver Slavery
Close
Keywords :
CONSIDERABLE apprehension has been created in certain quarters by the recent comments of Mr. Henry Riches, Northern Scotland Licensing Authority, on the question of rights of objection to applications for Contract A licences. Following upon these remarks, extraordinary conditions of operation have been alleged against a number of operators under •this class of licence. Shameless exploitation of owner-drivers is stated to be taking place, force of circumstances compelling the particular men concerned entirely to disregard the recognized conditions of work and • wages. Emboldened by the success that has attended the efforts of numerous working drivers who have purchased machines by some form of instalment system, certain men are said to have thrown up their employment with a firm of hauliers in response to -an offer made to them by a trading concern that was a customer of their employers, so that they were to a large extent familiar with both customers and journeys. The proposition was that the men should be "made their own masters," and it appears that at the outset such favourable terms were offered to the drivers that they were more than satisfied.
In some cases there was a little difficulty regarding the initial deposits, but this was smoothed away by advances on certain small possessions of the men. Thus it was not long before the trading concern had a useful fleet of vehicles on Contract A licences, together with an obliging staff of drivers who shouldered responsibility.
For a few weeks all went well ; then came the first difficulty. Other people were getting the work done for less, said the customers, and since the issuing of a contract licence does not indicate any legal necessity for the original rates to be maintained, down they came. Quickly there followed the other troubles of the same nature. Step by step the remuneration came down to such a level that it was made impossible for the drivers to observe the proper working hours and to pay themselves adequate wages.
When the men called the attention of the management to the state of affairs, sorrow was expressed at the circumstances that had arisen. However, they said, they were sure their competitors could secure transport at such figures, and that being so they had no option, if the rates were not agreeable, but to make other arrangements.
Not only were the men facing the loss of their principal customer, but also of their livelihood, for obviously the Easton decision would militate against their obtaining a full A licence. If there were no loads, back would go the wagon, and perhaps even before then action might be taken to recover the sums advanced by the trading concern for the initial deposits.
Naturally there was no alteration in either rates or conditions, in the circumstances neither side being likely to come into the open with any kind of statement. However, it is expected that the prospect of closer investigation into conditions relating to Contract A licences will lead to a plan being made to secure early improvement.
Finality in Weight Saving ?
Two Licensing Authorities referred in their First Animal Reports, outlined in this paper last week, to the large number of cases in which operators sought to replace vehicles of a certain unladen weight by heavier ones of no appreciably greater capacity. Does this fact denote that the ultimate in weight saving has been reached? We do not think so.
Assuming that the machines which these operators wished to replace were in the 50-cwt. class, one is tempted to conclude that their performance, for one reason or another, had not proved wholly satisfactory, and their disappointed owners had decided to forego the advantages of higher speed and lower tax for the greater reliability of a sturdier vehicle. We cannot accept this explanation, however. Admittedly, some of the highrated 30-m.p.h. lorries haye rather flimsy bodies and tyres of no more than adequate capacity, but they are built to carry their appointed loads, and afford good service, if reasonably handled. The more probable reason is that men, who had in the past been accustomed to carrying, say, 4 tons on their 2i-tonners, selected, for instance, 50-cwt. 4-tonners, with the deliberate intention of carrying six or more tons, and then discovered, to their chagrin, that the margin of safety had been drastically clipped.
. From the competition for high ratings, good must eventually come, for already load-capacity is limited almost solely by the tyres that can be used without exceeding the stated weight. Further lightening, which undoubtedly can be effected by even better design and even higher-quality materials, will permit greater strength, sturdier bodies and larger tyres. Theo that apparently necessary margin will re-expand.