Organizing Road Transport
27th March 1936
Page 31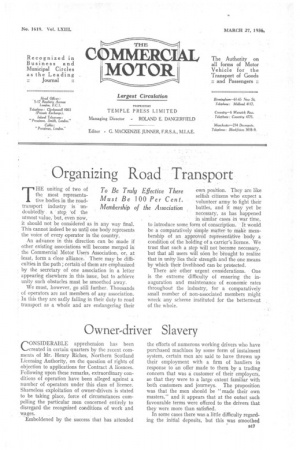 Page 31, 27th March 1936 —
Organizing Road Transport
Close
THE uniting of two of the most representative bodies in the roadtransport industry is undoubtedly _ a ' step. 'of the utmost value, but, even now, it should not be considered as in any way final. This cannot indeed be so until one body represents the voice of every operator in the country.
An advance in this direction can be made if other existing associations will become merged in the Commercial Motor Users Association, or, at least, form a close alliance. There may be difficulties in the path ; certain of them are emphasized , by the secretary of one association in a letter appearing elsewhere in this issue, but to achieve unity such obstacles must be smoothed away. We must, however, go still further. Thousands of operators are not members of any association. . In this they are sadly failing in their duty to road transport as a whole and are endangering their own position. They are like selfish citizens who expect a volunteer army to fight their battles, and it may yet be necessary, as has happened in similar cases in war time, to introduce some, form of conscription. It would be acomparatively simple matterto inalce membership of an approved representative body a condition of the holding of a carrier's licence. We trust that such a step will not become necessary, but that all users will soon be bibught to realize that in unity lies their strength and the one means by which their livelihood can be protected.
There are other urgent considerations. One is the extreme -difficulty of ensuring the inauguration and maintenance of economic rates throughout the industry, for a comparatively small number of non-associated members might wreck any scheme instituted for the betterment of the whole.