What Users Tell UJ Interview 3
27th March 1913
Page 8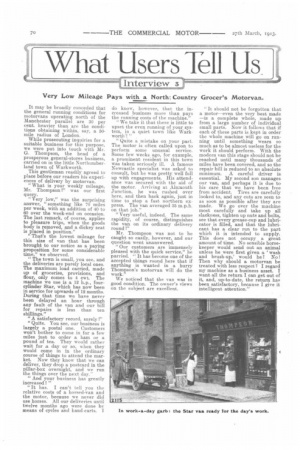 Page 8, 27th March 1913 —
What Users Tell UJ Interview 3
Close
Keywords :
Very Low Mileage Pays with a North= Country Grocer's Motorvan.
It may be broadly conceded that the general running conditions for motorvans operating north of the Manchester parallel are 30 per cent, heavier than are the conditions obtaining within, say, a 50mile radius of London.
While prosecuting inquiries for a suitable business for this purpose, we were put into touch with Mr. G. Thompson, the head of a prosperous general-stores business, carried on in the little Northumberland town of Warkworth.
This gentleman readily agreed to place before our readers his experiences of delivery by motorvan. " What is your weekly mileage, Mr. Thompson?" was our first query.
"Very low," was the surprising answer, "something like 70 miles per week, with an addition of 40 to 130 over the week-end on occasion. The last remark, of course, applies to pleasure trips, when the goods body is removed, and a dickey seat is paced in position."
" That's the lowest mileage for this size of van that has been brought to our notice as a paying proposition for some considerable tame," we observed.
"The town is small, you see, and the deliveries are purely local ones. The maximum load carried, made up of groceries, provisions, and flour, only comes to 4 cwt. The machine we use is a 12 h.p., fourcylinder Star, which has now been in service for upwards of 12 months. During that tune we have never been delayed an hour through any fault of the van and our bill for repairs is less than ten shillings."
"A satisfactory record, surely ?"
"Quite. You see, our business is largely a postal one. Customers won't bother to come in for a few miles just to order a ham or a pound of tea. They would rather wait for a day or so, when they would come in in the ordinary course of things to attend the market. Now they know that we can deliver, they drop a postcard in the pillar-box overmght, and we run the things over the next day.
"And your business has greatly increased? "
"It has. I can't tell you the relative costs of a horsed-van and the motor, because we never did use horses. All our deliveries until twelve months ago were done by means of cycles and hand-carts.
do know, however, that the increased business more than pays the running costs of the machine.
"We take it that there is little to upset the even running of your system, in a quiet town like Warkworth'? "
"Quite a mistake on your part. The motor is often called upon to perform some unusual service.
Some few weeks ago, for example, a prominent resident in this town was taken seriously ill. A famous Newcastle specialist was asked to consult, but he was pretty well full up with engagements. His attend ance was secured with the aid of the motor. Arriving at Alnmouth Junction, he was rushed over here, and then back again, just in time to stop a fast northern express. The van averaged 35 m.p.h. on that job."
"Very useful, indeed. The same rapidity, of course, distinguishes the van on its ordinary delivery round I" Mr. Thompson was not to be caught so easily, however, and our question went unanswered.
"Our customers are immensely pleased with the quick service," be parried. " It has become one of the accepted things round here that if anything is wanted in a hurry Thompson's motorvan will do the work."
We noticed that the van was in good condition. The owner's views on the subject are excellent.
It should not be forgotten that a motor—even the very best made —is a complete whole, made up from a large number of individual small parts. Now it follows that if each of these parts is kept in order the whole machine will go on. running until something wears so much as to be almost useless for thework it should perform. With the modern van this stage should not be reached until many thousands of miles have been covered, and so therepair bill is reduced to an absolute minimum. A careful driver is essential. My second son manages our van, and perhaps it is due to his care that we have been free from accident. Tires are carefully looked to, and any cuts are seen to as soon as possible after they are made. We go over the machine most carefully and take up all slackness, tighten up nuts and bolts, see that every grease-cup and lubricator is filled, and that the hibricant has a clear run to the part which it is intended to supply. This does not occupy a great amount of time. No sensible horsekeeper would send out an animal unless he were first given a 'wash and brush-up,' would he? No r Then why should a motorvan be treated with less respect? I regard my machine as a business asset. I want all the return I can get out of it, and, up-to-date, the return has been satisfactory, because I give it intelligent attention."