One Hears
27th March 1913
Page 3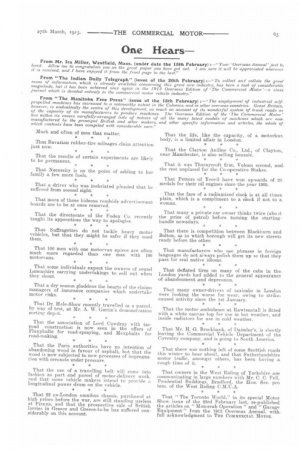 Page 3, 27th March 1913 —
One Hears
Close
Front Mr. Ira Miller, Westfield, Mass, (under date the 15th February) :—" Your 'Overseas Annual 'just ta hand. Allow me to congratulate you on the great paper you have got out. I am sure it will be appreciated wherever it is received, and I have enjoyed it from the front page to the last."
From "The Indian Daily Telegraph" (issue of the 20th February) :—"To collect and collate the great mass of information, which is already available concerning this great new industry, has been a task of considerable magnitude, but it has been achieved once again in the 1913 Overseas Edition of 'The Commercial Motor '—a class. journal which is devoted entirely to the commercial motor vehicle industry."
From "The Manitoba Free Press" (issue of the 15th February) :—" The employment of industrial selfpropelled machines has increased to a noteworthy extent in the Colonies, and in other overseas countries. Great Britain,. however, is undoubtedly the centre of this development, as much on account of its wonderful system of trunk roads as of the capacity of its manufacturers to produce machines. The Overseas Edition of the 'The Commercial Motor' has within its covers carefully-arranged lists of notices of all the many latest models of machines which are now manufactured by the principal British and other makers, and other specific information and articles, the whole of which contents have been compiled with considerable care."
Much and often of men that matter.
That Bavarian rubber-tire mileages claim attention just now.
That the results of certain experiments are likely to be permanent.
That Necessity is on the point of adding to her family a few more feels, That a driver who was inebriated pleaded that he suffered from second sight.
That more of those hideous roadside advertisement boards are to be at once removed.
That the cirectorate of the Foclen Co. recently taught its apprentices the way to apologise.
That Suffragettes do not tackle heavy motor vehicles, but that they might be safer if they used them.
That 100 men with one motorvan a-piece are often much more regarded than one man with 100 motorvans.
That some individuals expect the owners of sound Lancashire carrying undertakings to sell out when they shout.
That a dry season gladdens the hearts of the claims managers of ineurance companies which undertake motor risks.
That Dr. Hele-Shaw recently travelled ne aparcel, by way of test, at Mr. A. W. Cattie's demonstration sorting depot.
That the association of Lord Cowdray with tarroad construction is now seen in the offers of Flexphalte for road-spraying, and Mexphalte for road-making.
That the Paris authorities have no intention of abandoning wood in favour of asphalt., bet that the wood is now subjected to new processes of impregnation with creosote under pressure.
That the use of a, travelling belt will come into fashion as part and parcel of motor-delivery work, and that some vehicle makers intend to provide it longitudinal power drum on the vehicle.
That 22 ex-London omnibus chassis, purchased at high prices before the war, are still standing useless at Pincus, and that the prospective sale of British lorries in Greece and Greece-to-be has suffered considerably on this account. That the life, like the capacity, of a motorbus. body, is a limited affair in London.
That the Clayton Aniline Co., Ltd., of Clayton,. near Manchester, is also selling benzoie.
That it was Thornyeroft first, Vulcan second, and the rest unplaced for the Co-operative Stakes.
That Petters of Yeovil have won upwards of 20 medals for their oil engines since the year 1905.
That the face of a racliurnized clock is at all times plain, which is a compliment to a, clock if not to a woman.
That many a private-car owner thinks twice (about the price of petrol) before turning the startinghandle nowadays.
That there is competition between Blackburn and Bolton, as to which borough will get its new streets ready before the other.
That manufacturers who use phrases in foreign languages do not always polish them up so that they pass for real native idioms.
That deflated time on many of the cabs in the London yards had added to the general appearance of abandonment and depression.
That many owner-drivers of taxicabs in London were looking the worse for wear, owing to strikecaused activity since the let January.
That the motor ambulance at Rawtenstall is fitted with a white canvas top for use in hot weather, and inside radiators for use in cold weather.
That Mr. H, G. Broekbank, of Daimler's, is shortly leaving the Commercial Vehicle Department of the Coventry company, and-is going to South America.
That there was nothing left of some Scottish roads this winter to hear about, and that Sutherlandshire motor traffic, amongst others, has been having a rough time of it.
That owners in the West Riding of Yorkshire are communicating in large numbers with Mr. C. C. Fell, Prudential Buildings. Bradford, the Hon. See. pro tern, of the West. Riding C.M.U.A.
That "The Toronto World," in. its special Motor Show issue of the 23rd February .last, re-published the articles on " Motorcab Operation" and Garage Equipment" from the 1913 Overseas Annual, with full acknowledgment to THE COMMERCIAL Morolt.