PASSENGER •TRAVEL NEWS.
27th June 1922
Page 21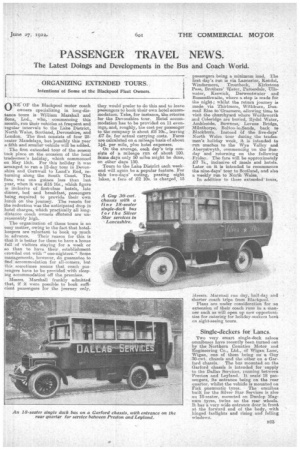 Page 21, 27th June 1922 —
PASSENGER •TRAVEL NEWS.
Close
The Latest Doings and Developments in the Bus and Coach World.
ORGANIZING EXTENDED TOURS.
intentions of Some of the Blackpool Fleet Owners.
ONE' OF the Blackpool motor coach owners specializing in long-distance tours is William Marshall and Sons, Ltd., who, commencing this month, run their vehicles at frequent and regular intervals to the Lake District, North Wales, Scotland, Devonshire, and London. The Beet consists of four 28seater Mandslays, but 'possibly this year a fifth and smaller vehicle will be added.
The first extended• tour of the season took place on the oer-eqion of the local tradesmen's holiday, which commenced on May 15th. For this holiday it was arranged to run a 12-day tour in Devonshire and Cornwall to Land's End, returning along the South Coast. The faro was ono guinea less than last year, when it Was 216 16s., which figure is inclusive of first-class hotels, late dinner, bed and breakfast; passengers being required to provide their own lunch on the journey. The reasdn for the reduction was the anticipated drop in hotel charges, which practically all long&starletcoach owners intend are unreasonably high.
The organization of these tours is no easy matter, owing to the fact that hotelkeepers are reluctant to book up much
in advance. Their reason for this is that it is better for them to have a house full of visitors staying for a week or so than to have their establishment crowded out with " one-nighters." Some managements, however, do guarantee to fiTid accommodation for all-comers; hut this sometimes means that coach passengers have to be provided with sleeping acc,ommodatien off the premises.
Messrs. Marshall frankly admitted that, if it were possible to book sufficient passengers for the Icrurney only,
they would prefer to do this and to leave passengers to book their own hotel accommodation, Take, for instance, the returns for the Devonshire tour. Hotel accommodation has to he provided on 11 evenings, and, roughly, the cost per passenger to the company is about 28 10s., leaving 27 5s. for actual carrying costs. Fares are calculated on a mileage basis of about lid. per mile, plus hotel expenses.
On the average, each day's trip consists of a mileage run of about 100. Some days only 50 miles might be done, on other days 150.
Tours to the Lake District each weekend will again be a popular feature. For this two-days' outing, passing eight lakes, a far of 22 10s. is charged, 15
passengers being a minimum load. The first day's run is via Lancaster, Kendal, Windermere, Troutheck, Kirkstone Pass, Brothers' Water, Patterciale, Ullswater, Keswick, Derwentwater and Bamenthwaite, where a stop is made for the night; whilst the return journey is made via Thirlmere, Withburn, Dunmail Rise to -Grasmere, allowing time to visit the churchyard where Wordsworth and Coleridge are buried, Rydal Water, Ambleside, Bowness; Levens Bridge, Munthorpe, Boltoti-le:Sands, back to Blackburn. Instead IA the five-days' North Wales tour during the tradesmen's holiday week, it, is intended to run coaches to the Wye Valley and Aberystwyth, commencing on the Sunday and returning on the following .Friday. The fare will be approximately 7 72., inclusive of meals and hotels. Later on it is intended to recommence the nine-days' tour to Scotland, and also a weekly run to North Wales.
In addition to these extended' tours, Messrs. Marshall rue day, half-day and shorter coach trips from Blackpool. Plans are under consideration for an extension of their coach runs in a manner such as will open up new opportunities for mitering for holiday-makers bent on sight-seeing tours.
Single-deckers for Lancs.
Two very smart single-deck saloon omnibuses have recently been turned out by the Northern Counties Motor and Engineering Co., Ltd., of Wigan Lane, Wigan, one of them being on a Guy 30-cwt. chassis and the other on a Garford chassis. The bus mounted on the Garford chassis is intended for supply to the Dallas Services, running between Preston and Leyland. It seats 18 passengers, its entrance being on the rear quarter, whilst the vehicle is mounted on Fisk pneumatic tyres. The omnibus built for the Silver Star Services is also an 18-seater, mounted on Dunlop Magnum tyres, twins on the rear wheels. It has a very wide entrance door in front at the forward end of the body, with hinged fanlights and rising and falling windows.