OPINIONS FROM OTHERS
27th July 1920
Page 22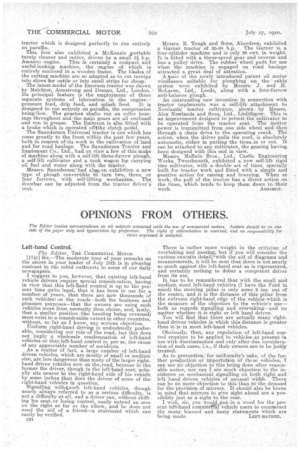 Page 22, 27th July 1920 —
OPINIONS FROM OTHERS
Close
The Editor invites correspondence on all subjects connected with the use of commercial motors. Letters should be on one side of the paper only and typewritten by preference. The right of abbreviation is reserved, and no responsibility for views expressed is accepted.
Left-hand Control..
The Editor, THi UOMMERCIAL MOTOR. [1741] Sir,—The moderate tone of your remarks on the. above in your leader of July lath is in pleasing contrast to the rabid outbursts in. some of our daily newspapers.
I suggest to you, however, that existing left-hand vehicle drivers require special consideration, having in view that this left-Eand control is up to the preSent time quite legal, that it has been. in use for, a number. of years, that there are now thousands of such vehicles; on the roads—both for business and pleasure purposes—that the owners are using such vehicles more from necessity than choice, and, lastly, that a similar position.(tlae handing being reversed) must exist to a considerable extent in other countries, without, so far as I know, any serious objection. Uniform right-hand driving is undoubtedly preferable, considering our rule of the road, but this does not imply a wholesale condemnation of left-hand vehicles or that left-hand control is, per se, the cause of any appreciable number of accidents.
As a matter of fact, a large number of left-hand driven vehicles, which are mostly of small or medium size, are less dangerous than many of the larger righthand driven vehicles now on the,road, because in the former the driver, though in the left-hand seat, actually sits nearer to the right-hand side of his vehicle by Borne inches than 'does the driver of some of the right-hand vehicles in question. Signalling withAsuch left-hand vehicles, though nearly always referred to as a. serious difficulty, is not a difficulty at all, and a driver can, without shifting his seat. orlosing control, easily extend an arm on the right as far as the elbow and lie does not need the aid of a friend—a sta:tement which can easily be verified. There is rather more weight in the criticism of overtaking and passing, but if you will consider the various.caseatin details..'with the aid of diagrams and measurements, it will be seen that there is not nearly so much against the left-hand seat as is represented, and certainly nothing to debar a competent driver from its use.
It has to be remembered that with the small and medium sized left-band vehicles (I have the Ford in mind) the steering pillar' is only some 8 ins, out of the centre, and it is, the distance of this pillar from the extreme right-hand edge of the vehicle-which is the measure of the objection to the vehicle's use— both as regards signalling and overtaking—and no matter whether it is right or left hand driven.
You will find that there are actually many righthand driven vehicles in which this distance is greater than it is 'in most left-hand vehicles.
Obviously, then, any regulation of left-hand control requires to be applied to vehiclesat present in use with' discriminationand only after due cqnsidera' tion of such cases, i.e., if their owners are to be justly treated.
As to prevention, for uniformity's sake, of the further production or importation of these vehicles, I can see no objection to this heing done after reasonable notice, nor can I see much objection to the insistence on mechanical signalling on both right and/ left hand -driven vehicles of unusual width. There can be no more objection to this than to the demand for the provision of mirrors. It should also be borne in mind that mirrors to give sight ahead are a possibility just as a sight to the rear.
I wish, sir, you wool4 put in a word for the present left-hand commor&a:1-vehicle users to counteract the many biassed and hasty statements which are
being made. LEFT-HANDER.