TRANSPORT BEHIND TH
27th January 1956
Page 34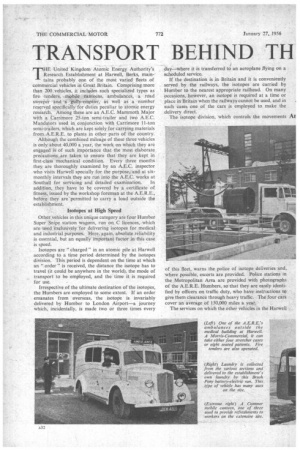 Page 35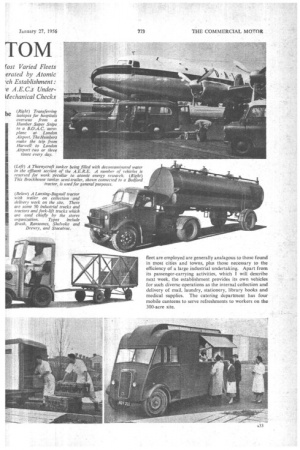 Page 36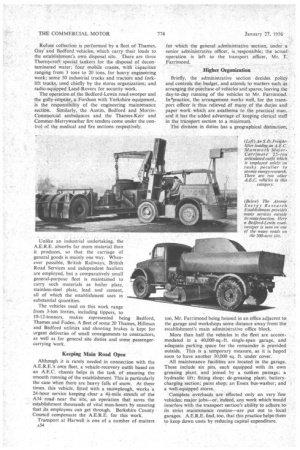 Page 39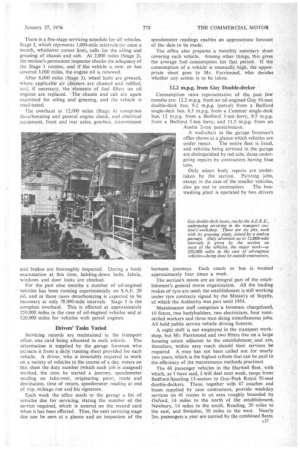 Page 34, 27th January 1956 —
TRANSPORT BEHIND TH
Close
TOM
THE United Kingdom Atomic Energy Authority's Research Establishment at Harwell, Berks, maintams probably one of the most varied fleets of commercial vehicles in Great Britain. Comprising more than 200 vehicles, it includes such specialized types as firetenders, mobile canteens, ambulances, a rdad sweePer and a gully-emptier, as well as a number reserved specifically for duties peculiar to atomic energy research. Among these are an A.E.C. Mammoth Major with a Carrimore. 25-ton semi-trailer and two A.E.C. Mandators used in conjunction with Carrimore 11-ton semi-trailers, which are kept solely for carrying materials from :A.E.R.E. to plants in other .parts of the country.
Although the combined mileage of these three vehicles is only•abbut 40,000 a year, the Work on which they are engaged IS of such importance that the most elaborate precautions are taken to ensure that they are kept in first-class mechanical condition. Every three months they are thoroughly examined by an A.E.C. inspector who visits Harwell specially for the purpose, and at sixmonthly intervals they are run into the A.E.C. works at Southall for servicing and detailed examination. In addition, they have to be covered by a certificate of fitness, issued by the workshop foreman at the A.E.R.E., before they are 'permitted to carry a load outside the establishment.
.. Isotopes at High Speed Other vehicles in this unique category are four Humber Super Snipe station wagons, run on C licences, which are Used exelusiv.ely for delivering isotopes for medical and industrial purposes. Here, again, absolute reliability is essential, but an equally important factor in this case is speed.
. Isotopes are " charged " in an atomic pile at Harwell according to a time period determined by the isotopes division. This period is dependent on the time at which an " order " is received, the distance the isotope has to travel (it could be anywhere in the world), the mode of transport to be employed, and the time it is required for use. ..
Irrespective of the ultimate destination of the isotopes, the Humbers are employed to some extent. If an order emanates from overseas, 'the isertope is invariably delivered by Humber to London Airport—a journey which, incidentally, is made two or three times every day—where it is transferred to an aeroplane flying on a scheduled service. .
lithe destination is in Britain and it is conveniently served by the railways, the isotopes are carried by Humber to the nearest appropriate railhead. On many occasions, however, an isotope is required at a time or place in Britain when the railways cannot be used, and in such cases one of the cars is employed to make the delivery direct. The isotope division, Which controls the movements Ai of this fleet, warns the police of isotope deliveries and, 'where passible, escorts are provided. Police stations in the Metropolitan Area are provided with photographs of the AE.R.E. Humbers, so that they are easily identified by officers on traffic duty, who have instructions to give them clearance through heavy traffic. The four cars cover an average of 150,000 miles a year.
The services on which the other vehicles in the Harwell
fleet are employed are generally analagous to those found in most cities and towns, plus those necessary to the efficiency of a large industrial undertaking. Apart from its passenger-carrying activities, which I will describe next week, the establishment provides its own vehicles for such diverse operations as the internal collection and delivery of mail, laundry, stationery, library books and medical supplies. The catering department has four mobile canteens to serve refreshments to workers on the 300-acre site.
Refuse collection is performed by a fleet of Thames, Guy and Bedford vehicles, which carry their loads to the establishment's own disposal site. There are three Thornycroft special tankers for the disposal of decontaminated water; four mobile cranes, with capacities ranging from 3 tons to 20 tons, for heavy engineering work; some 50 industrial trucks and tractors and forklift trucks, used chiefly by the stores organization; and radio-equipped Land-Rovers for security work.
The operation of the Bedford-Lewin road sweeper and the gully-emptier, a Fordson with Yorkshire equipment, is the responsibility of the engineering maintenance section. Similarly, the Austin, Bedford and Morris-. Commercial ambulances and the Thames-Kerr and Commer-Merryweather fire tenders come under the control of the medical and fire sections respectively.
Unlike an industrial undertaking, the A.E.R.E. absorbs far more material than it produces, so that the carriage of general goods is mainly one way. Whenever possible, British Railways, British Road Services and independent hauliers are employed, but a comparatively small general-purpose fleet is maintained to carry such materials as boiler plate, stainless-steel plate, lead and cement, all of which the establishment uses in substantial quantities.
The vehicles used on this work range from 3-ton lorries, including tippers, to 10-12-tonners, makes represented being Bedford, Thames and Foden. A fleet of some 20 Thames, Hillman and Bedford utilities and shooting brakes is kept for urgent deliveries of small consignments to contractors, as well as for general site duties and some passengercarrying work.
Keeping Main Road Open
Although it is rarely needed in connection with the A.E.R.E.'s own fleet, a vehicle-recovery outfit based on an A.E.C. chassis helps in the task of ensuring the smooth running of the establishment. This is particularly the case when there are heavy falls of snow. At these times, this vehicle, fitted with a snowplough, works 'a 24-hour service keeping clear a 4i-mile stretch of the A34 road near the site, an operation that saves the establishment thousands of vital man-hours by ensuring that its employees can get through. Berkshire County Council compensate the A.E.R.E. for this work.
Transport at Harwell is one of a number of matters A34 for which the general administrative section, under a senior administrative officer, is responsible; the actual operation is left to the transport officer, Mr. T. Farrimond.
Higher Organization Briefly, the administrative section decides policy and controls the budget, and attends to matters such as arranging the purchase of vehicles and spares, leaving the day-to-day running of the vehicles to Mr. Farrimond. Inapractice, the arrangement works well, for -the transport officer is thus relieved of many of the duties and paper work • which are anathema to the practical man, and it has the added advantage of keeping clerical staff in the transport section to a minimum.
The division in duties has a geographical distinction, too, Mr. Farrimond being housed in an office adjacent to the garage and workshops some distance away from the establishment's main administrative office block.
More than half the vehicles in the fleet are accommodated in a 40,000-sq.-ft, single-span garage, and adequate parking space for the remainder is provided outside. This is a temporary measure, as it is hoped soon to have another 30,000 sq. ft. under cover.
All maintenance facilities are located in the garage. These include six pits, each equipped with its own greasing plant, and joined by a sunken passage; a hydraulic lift; fitting shop; de-greasing plant; batterycharging section; paint shop; an Essex bus-washer; and , a well-equipped stores.
Complete overhauls are effected only on very 'few vehicles; major jobs—or, indeed, any work which would interfere with the transport section's ability to adhere to its strict maintenance routine—are put out to local garages. A.E.R.E. find, too, that this practice helps them to keep down costs by reducing capital expenditure.
There is a five-stage servicing schedule for all vehicles. Stage 1, which represents 1,000-mile intervals (or once a month, whichever conies first), calls for the oiling and greasing of chassis and cab. At 2,000 miles (Stage 2), the section's permanent inspector checks the adequacy of the Stage 1 routine, and if the vehicle is new, or has covered 3,000 miles, the engine oil is renewed.
After 6,000 miles (Stage 3), wheel hubs are greased, where applicable air cleaners are cleaned and refilled, and, if necessary, the elements of fuel filters on oil engines are replaced. The chassis and cab are again examined for oiling and greasing, and the vehicle is road-tested.
The overhaul at 12,000 miles (Stage 4) comprises decarbonizing and general engine check, and electrical equipment, front and rear axles, gearbox, transmission and brakes are thoroughly inspected. During a body examination at this time, holding-down bolts, fabric, windows and door locks are checked.
For the past nine months a number of oil-engined vehicles has been running experimentally on S.A.E. 20 oil, and in these cases decarbonizing is expected to be necessary at only 78,000-mile intervals. Stage 5 is the complete overhaul. This is effected at approximately 250,000 miles in the case of oil-engined vehicles and at 120,000 miles for vehicles with petrol engines.
Drivers' Tasks Varied Servicing records are maintained in the transport office, one card being allocated to each vehicle. The information is supplied by the garage foreman who extracts it from a daily running sheet provided for each vehicle. A driver, who is invariably required to work on a variety of vehicles in the course of a day, enters on this sheet the duty number (which each job is assigned) worked, the time he started a journey, speedometer reading on take-over, originating point, route and destination, time of return, speedometer reading at end of trip, mileage run and his signature.
Each week the office sends to the garage a list of vehicles due for servicing, Stating the number of the service required, which is entered on the record card when it has been effected. Thus, the next servicing stage due can be seen at a glance and an inspection of the speedometer readings enables an approximate forecast of the date to he made.
The office also prepares a monthly summary sheet covering each vehicle. Among other things, this gives the average fuel consumption for that period. If the consumption of a vehicle is unusually high, the appropriate sheet goes to Mr. Farrimond; who decides whether any action is to be taken.
42.2 .m.p.g. from Guy Double-decker
Consumption rates representative of the past few months are: 12.2 m.p.g. from an oil-engined Guy 56-seat double-deck bus, 9.2 m.p.g. (petrol) from a Bedford single-deck bus, 85 m.p.g. from a Commer single-deck bus, 12 m.p.g. from a Bedford 3-ton lorry, 9.5 m.p.g. from a Bedford 5-ton lorry, and 11.5 m.p.g. from an Austin 2-ton pantechnicon.
A wall-chart in the garage foreman's office shows at a glance which vehicles are under repair. The entire fleet is listed, and vehicles being serviced in the garage are distinguished by red tabs, those undergoing repairs by contractors having blue tabs.
Only minor body repairs are undertaken by the section. Painting jobs, except in the case of the smaller vehicles,
also go out to contractors. The buswashing plant is operated by two drivers
between journeys. Each coach or bus is washed approximately four times a week.
The section's stores are an integral part of the establishment's general stores organization. All the leading makes of tyre are used; the establishment is still working under tyre contracts signed by the Ministry of Supply, of which.the Authority was part until 1954.
Maintenance staff comprises a foreman, chargehartd, 10 fitters,. two bodybuilders, two electricians, four semiskilled workers and three men doing miscellaneous jobs. All hold public service vehicle driving licences.
A night shift is not employed in the transport workshop, but Mr. Farrimond and two fitters live on a large housing estate adjacent to the establishment, and are, therefore, within easy reach should their services be required. A man has not been called out for nearly two years, which is the highest tribute that can be paid to the efficiency of the maintenance methods practised.
The 46 passenger vehicles in the Harwell fleet, with which, as I have said, I will deal next week, range from Bedford-Spurling 13-seaters to Guy-Park Royal 56-seat double-deckers. These, together with 47 coaches and buses supplied by nine contractors, provide weekday services on 41 routes in an area roughly bounded by Oxford, 14 miles to the. north of the establishment, Newbury, 14 miles to the south, Reading, 20 miles to the east, and Swindon, 30 miles to the west. Nearly 2m. passengers a year are carried by the combined fleets.