Bird's Eye View
27th January 1956
Page 28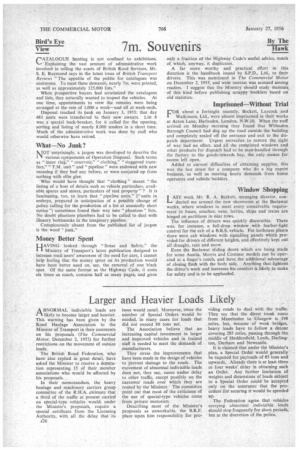 Page 28, 27th January 1956 —
Bird's Eye View
Close
7m. Souvenirs
By The Hawk
CATALOGUE hunting is not confined to exhibitions. 1.--0 Explaining the vast amount of administrative work involved in selling the assets of British Road Services, Mr. S. E. Raymond says in the latest issue of British Transport Review: "The appetite of the public for catalogues was enormous. To meet these demands, nearly 7m. were printed, as well as approximately 125,000 lists." When prospective buyers had scrutinized the catalogues and lists, they naturally wanted to inspect the vehicles. At one time, appointments to view the remains were being arranged at the rate of 1,000 a week—and all at week-ends. Disposal reached its peak on January 3, 1955: that day 483 units were transferred to their new owners. List 43 was a special back-breaker, for it called for the opening, sorting and listing of nearly 8,000 tenders in a short time. Much of the administrative work was done by staff who would otherwise have retired.
What—No Junk?
NOT surprisingly, a jargon was developed to describe the various components of Operation Disposal. Such terms as " inner ring," "reservoir," " clothing," "staggered transfers," " T.M. unit" and " pipeline " were endowed with new meaning if they had any before, or were conjured • up from nothing with elfin glee. Who would have thought that " clothing " meant "the listing of a host of details such as vehicle particulars, available spares and stores, particulars of real properly"? It is fascinating, too, to learn that "pipeline units" ("units in embryo, prepared in anticipation of a possible change of policy calling for the production of a list at unusually short notice ") sometimes found their way into " phantom " lists. No doubt phantom plumbers had to be called to deal with illusory bottlenecks in the imaginary pipeline, Conspicuously absent from the published list of jargon is the word "junk."
Money Better Spent
LIAVING looked through "Sense and Safety," the Ministry of Transport's latest publication designed to increase road users' awareness of the need for care, I cannot help feeling that the money spent on its production would have been • better used on, say, the removal of one black spot. Of the same format as the Highway Code, it costs six times as much, contains half as many pages, and gives only a fraction of the Highway Code's useful advice, much of which, anyway, it duplicates. A far more worthy and practical effort in this direction is the handbook issued by S.P.D., Ltd., to their drivers. This was mentioned in The Commercial Motor on December 2, 1955, and wide interest was aroused among readers. I suggest that the Ministry should study manuals of this kind before publishing scrappy booklets based on old statistics.
Imprisoned—Without Trial
FOR about a fortnight recently, Beckett, Laycock and Watkinson, Ltd., were almost imprisoned in their works at Acton Lane, Harlesden, London, N.W.10. When the staff arrived on Monday morning they found that Willesden Borough Council had dug up the road outside the building and completely sealed off the entrance and exit to the dispatch department. Urgent entreaties to restore the right of way had no effect, and all the completed windows and other products for dispatch had to be man-handled through the factory to the goods-inwards bay, the only Means for access left open. Added to current difficulties of obtaining supplies, this was the last straw for a company who do a big export business, as well as meeting heavy demands from home operators and vehicle builders.
Window Shopping
I AST week Mr. R. A. Beckett, managing director, conk+ ducted me around the new showroom at the 13eclawat works, where windows to meet every conceivable requirement in buses, coaches, vans, lorries, ships and trains are hinged on partitions in neat rows. The influence of drivers was quickly discernible. There was, for instance, a full-drop window with feather-light control for the cab of a B.R.S. vehicle. For hothouse plants there were cab windows with signalling panels which provided for drivers of different heights, and effectively kept out all draught, rain and snow. Even the Beclawat sliding doors which are being made for some Austin, Morris and Commer models can be operated at a finger's touch, and have the additional advantage of closing flush with the body side. Anything that lightens the driver's work and increases his comfort is likely to make for safety and is to be applauded.