In a Line or Two
27th January 1956
Page 24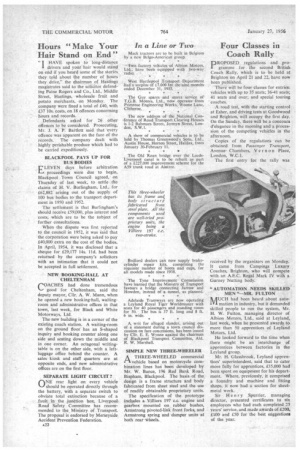 Page 24, 27th January 1956 —
In a Line or Two
Close
Mack tractors are to be built in Belgium by a new Belgo-American group.
• Two factory vehicles of Albion Motors, Ltd., have been equipped with two-way. radio.
West Hartlepool Transport Department had a.surplus Of £7,000 for thc. nine months
ended December 31,. 1955. •
The Guy spates and, stores service of T.G.B. Motors, Ltd., now operatesfrom Primrose Engineering Works, Woone Lane, Clitheroe.
The new address of the National Con-ference of Road Transport Clearing Houses is 1-2 Babmaes Street, Jerrnyn Street, London, S.W.1.
A show of commercial vehicles is to be held by Thomas Greenwood's Sons, Ltd., Austin House, Horton Street, Halifax, from January 30-February 11.
The Old Roan bridge over the" LeedsLiverpool canal is to be rebuilt as part of a £227,000 improvement scheme for the A59 trunk road at Aintree.
Bedford dealers can now supply brakecylinder repair kits, comprising the requisite number of boots and cups, for all models made since 1938.
The Tyne Improvement Commission have learned that the Ministry of Transport favours a bridge connecting Jarrow and Howclen, instead of a tunnel, as planned.
Adelaide Tramways are now operating a Leyland Royal Tiger Worldmaster with seats for 40 passengers and standing room for 50. • The bus is 37 ft. long and 8 ft. 6 in. wide.
A. writ for alleged slander, arising out of a statement during a town council discussion on fare concessions, has been issued by Cllr. E. E. Wynne against the chairman of Blackpool Transport Committee, Aid. R. W. Marshall.
SIMPLE NEW THREE-WHEELER A THREE-WHEELED commercial I-1 vehicle based on motorcycle combination lines has been developed by Mr. W. Bunce, 196 Red Bank Road, Bispham, Blackpool. The basis, of the., design is a frame structure and body fabricated from sheet steel and the use of readily obtainable proprietary units.
The specification of the prototype includes a Villiers 197 c.c. engine and gearbox mounted on rubber bushes, Armstrong pivoted-link front forks, and Armstrong spring and damper units at both rear Wheels.