Hours " Make Your Hair Stand on End " "T HAVE spoken to long-distance
27th January 1956
Page 24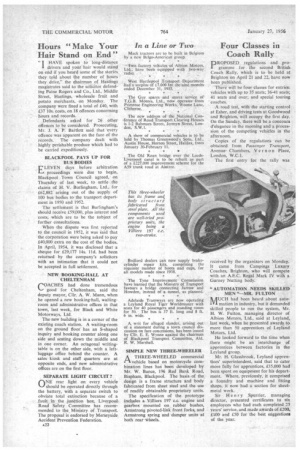 Page 24, 27th January 1956 —
Hours " Make Your Hair Stand on End " "T HAVE spoken to long-distance
Close
1. drivers and your hair would stand on end if you heard some of the stories they told about the number of hours they drive," the chairman of Hastings magistrates said to the solicitor defending Paine Rogers and Co-, Ltd., Middle Street, Hastings, wholesale fruit and potato merchants, on Monday. The company were fined a total of £40, with £37 105. costs, on 18 offences concerning hours and records.
Defendants asked for 26 other offences to he considered. Prosecuting, Mr. J. A. P. Bartlett said that every offence was apparent on the face of the records. The company dealt with highly perishable produce which had to be carried expeditiously.
BLACKPOOL PAYS UP FOR BUS BODIES
LLEVEN days before arbitration I—, proceedings were due to begin, Blackpool Town Council agreed, on Thursday of last week, to settle the claims of H. V. Burlingham, Ltd., for £62,882 arising out of the supply of 100 bus bodies to the transport department in 1950 and 1952.
. The settlement is that Burlingham's should receive £59,000, plus interest and -costs, which are to be the subject of further consultations.
When the dispute was first retorted to the council in 1952, it was said that • the corporation were being asked to pay £40,000 extra on the cost of the bodies. In April, 1954, it was disclosed that a cheque for £29,177 14s. Ild, had been returned by the company's solicitors with an intimation that it could not be accepted in full settlement.
NEW BOOKING-BALL AT CHELTENHAM
COACHES had done tremendous good for Cheltenham, said the deputy mayor, Cllr. A. W. Mann, when he opened a new booking-hall, waitingroom and administrative offices in that town, last week, for Black and White Motorways, Ltd.
The new building is in a corner of the existing coach station. A waiting-room on the ground floor has an S-shaped inquiry and booking counter along one side and seating down the middle and in one corner. An octagonal writingtable is on the other side, with a lef tluggage office behind the counter. A sales kiosk and staff quarters are at opposite ends, and new administrative offices are on the first floor.
SEPARATE LIGHT CIRCUIT ?
ONE rear light on every vehicle should be operated directly through the battery, with a separate switch to obviate total extinction because of a fault in. the junction box, Liverpool Road Safety Committee has recommended to the Ministry of Transport. The proposal is endorsed by Merseyside Accident Prevention Federation.
A22