Moves to Cut Tipper Accidents
27th January 1956
Page 22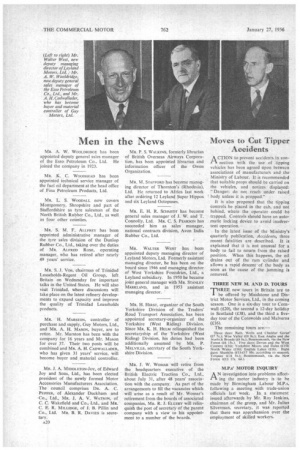 Page 22, 27th January 1956 —
Moves to Cut Tipper Accidents
Close
A CTION to prevent accidents. in con
nection with the use of tipping vehicles has been agreed Upon between associations of manufacturers and the Ministry of Labour. It is recommended that suitable props should be carried on the vehicles, and notices displayed: "Danger: do not reach under raised body unless it is propped."
It is also proposed that the tipping controls be placed in the cab, and not behind, where the operator could be trapped. Controls should have an automatic locking device to avoid inadvertent operation.
In the latest issue. of the Ministry's quarterly publication, Accidents, three recent fatalities are described. It is explained that it is not unusual for a body to fail to return from the raised position. When this happens, the oil drains out of the ram cylinder and allows a rapid descent of the body as soon as the cause of the jamming is removed.
THREE NEW M. AND D. TOURS THREE new tours in Britain are to be offered by Maidstone and District Motor Services, Ltd., in the coming season. One is a six-day tour to Cornwall (£20), the second a 12-day holiday in Scotland (£38), and the third a fiveday tour of the Cotswolds and Malverns (£16).
The remaining tours are:— Three days: Bath, Wells and Cheddar Gorge' 7s.): WYC Valley (533 8.5.); East Anglia and the Norfo:k Broads (Di Rs..); Bournemouth, via the New FOf CS! (56 15s.). Five days: Devon and the West Country (£16); Yorkshire Moors and Dales (E15): North Wales (£16); English Lakes (£16). Eight days: Shanklin (£13-5.11 les: according to season); Torquay (516 55.); Bournemouth, via the New Forest (£13 17s, 6d.),
M.P.s' MOTOR INQUIRY
A N investigation into problems affecting the motor industry is to be made by Birmingham. Labour Ml's, following a meeting with trade-union
officials last week. In a statement issued afterwards by Mr. Roy Jenkins, chairman of the group, and Mr. Julius Silverman, secretary, it was reported that there was apprehension over the employment of skilled workers.