R.H.A. Should Compromise—Mr. Thom
27th January 1956
Page 21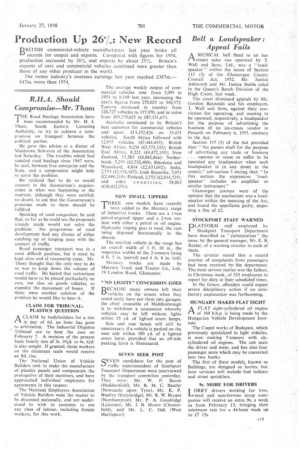 Page 21, 27th January 1956 —
R.H.A. Should Compromise—Mr. Thom
Close
THE Road Haulage Association have been recommended by Mr. H. J. Thom, South Eastern Licensing Authority, to try to achieve a compromise on transport between the political parties.
He gave this advice at a dinner of Maidstone Sub-area of the Association last Saturday. The troubles which had assailed road haulage since 1947 were, he said, between free enterprise and the State, and a compromise might help to solve the problem.
He realized that to do so would amount to the Association's acquiescence in what was happening at the moment, although they were entitled, no doubt, to ask that the Government's promises made to them should be fulfilled.
Speaking of road congestion, he said that, so far as he could see, the proposals already made would not solve the problem. No programme of road development had any chance of either catching up or keeping pace with the amount of traffic.
Road passenger transport was in a most difficult position, but it must be kept alive and ai reasonable rates. Mr. Thom thought that the only way to do so was to keep down the volume of road traffic. He hinted that restrictions would have to be placed particularly on cars, but also on goods vehicles, to expedite the movement of buses. If there were another solution of the problem he would like to hear it.
CLAIM FOR TRIBUNAL: PLASTICS QUESTION
ACLAIM by bodybuilders for a rise in pay of 6d. an hour has gone to arbitration. The Industrial Disputes Tribunal are to hear the case on February 7. A revision of the present basic hourly rate of 3s. 10d. to 4s. 61d. is also sought. If granted, those workers on the minimum scale would receive an 8d. rise.
The National Union of Vehicle Builders seek to make the manufacture of plastics panels and components the prerogative of their members, and have approached individual employers for agreements in this respect.
The National Employers Association of Vehicle Builders want the matter to be discussed nationally, and are understood to wish to continue to use any class of labour, including female workers, for this work.