Production Up 26°/.: New Record
27th January 1956
Page 21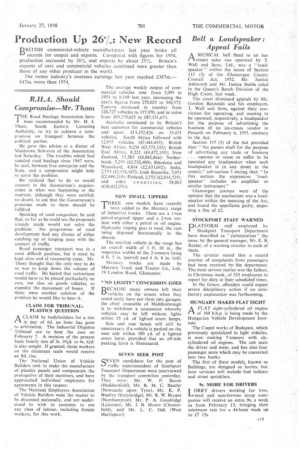 Page 21, 27th January 1956 —
Production Up 26°/.: New Record
Close
BRITISH commercial-vehicle manufacturers last year broke all records for output and exports. Compared with figures for 1954, production increased by 26% and exports by about 25%. Britain's exports of cars and commercial vehicles combined were greater than those of any other producer in the world.
The motor industry's overseas earnings last year reached £387m.— &I-7m. more than 1954.
The average weekly output of commercial vehicles rose from 5,095 in 1954 to 6,549 last year, increasing the year's figures from 270,025 to 340,573. Exports increased in number from 126.727 vehicles to 157,970, and in value from 169,270,625 to 187,131,653.
Australia continued to be Britain's best customer for commercial vehicles and spent £13,352,426 on 35,431 vehicles. South Africa followed with 12,935 vehicles (£7,444,493); British West Africa, 9,254 (L5,773,333); British East Africa, 8.221 (14,872,195); New Zealand, 11,383 (£4,842,866); Netherlands, 5,293 (£2,732,400); Rhodesia and Nyasaland, 4,814 (£2,633,042); India, 2,753 (£2,556,187); Irish Republic, 7,071 (12,448,110); Finland, 2,752 (12,014,525); and other countries, 58,063 (£38,432,076).
NEW SMALL TIPPERS
THREE new models have recently been added to the Mercury range of industrial trucks. These are a 1-ton petrol-engined tipper and a 2-ton version with either a petrol or oil engine. Hydraulic tipping gear is used, the ram being disposed horizontally in the chassis.
The smallest vehicle in the range has an overall width of 3 ft. 10 in., the respective widths of the 2-tonners being 4 ft. 5 in. (petrol) and 4 ft. 8 in. (oil).
Mercury trucks are made by Mercury Truck and Tractor Co., Ltd., 19 London Road, Gloucester.
"NO LIGHTS" CONCESSION GOES BECAUSE many owners left their vehicles on the streets when they could easily have put them into garages, the chief constable of Middlesbrough is to withdraw a concession whereby vehicles may be left without lights within 25 yd. of lighted street lamps.
Side and rear lamps will still be unnecessary if a vehicle is parked on the near side within 100 yd. of a lighted street lamp, provided that an off-side parking lamp is illuminated.
SEVEN SEEK POST
SEVEN candidates for the post of traffic superintendent of Southport Transport Department were interviewed by the transport committee yesterday. They were: Mr. W. F. Baron (Huddersfield), Mr. R. M. C. Baschy (Newcastle upon Tyne), Mr. K. P. Bradley (Stalybridge), Mr. R. W. Bryant (Northampton), Mr. P. A. Goodridge (Leicester), Mr. J. B. Moore (Chesterfield), and Mr. L. C. Oak (West Hartlepool).