Bell a Loudspeaker : Appeal Fails
27th January 1956
Page 21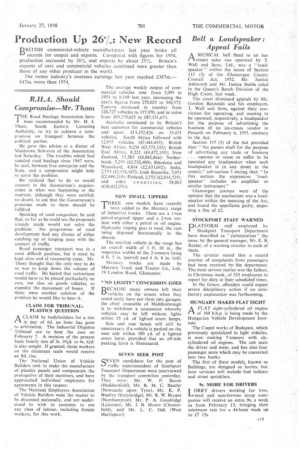 Page 21, 27th January 1956 —
Bell a Loudspeaker : Appeal Fails
Close
PAA MUSICAL bell fitted to an icecream sales van operated by T. Wall and Sons, Ltd., was a " loudspeaker" within the terms of Section 115 (5) of the Glamorgan County Council Act, 1952, Mr. Justice Ashworth and Mr. Justice Stable ruled in the Queen's Bench Division of the High Court, last week.
The court dismissed appeals by Mr. Gordon Reynolds and his employers, T. Wall and Sons, against their conviction for operating, and causing to be operated, respectively, a loudspeaker for the purpose of advertising the business of an ice-cream vendor in Penarth on February 6, 1955, contrary to the Act.
Section 115 (1) of the Act provided that: " No person shall for the purpose of advertising any trade or business . . operate or cause or suffer to be operated any loudspeaker when such loudspeaker is in any street in the county," sub-section 5 stating that: "In this section the expression ' loudspeaker' includes an amplifier or similar instrument."
Glamorgan justices were of the opinion that the mechanism was a loudspeaker within the meaning of the Act, and found the appellants guilty, imposing a fine of £2.
STOCKPORT STAFF WARNED
PLATFORM staff employed by Stockport Transport Department have described as "yictimization " the issue, by the general manager, Mr. E. B. Baxter, of a warning circular to each of them.
The circular stated that a record number of complaints from passengers had been received by, the department. The most serious matter was the failure, in Christmas week, of 333 employees to report for duty at their scheduled times.
In the future, offenders could expect severe disciplinary action if no satisfactory explanation was forthcoming.
HUNGARY MAKES FLAT EIGHT
rAA FLAT eight-cylindered oil engine of 160 b,h.p. is being made by the Hungarian Vehicle Development Institute.
The Csepel works of Budapest, which previously specialized in light vehicles, is now making 7-tonners with sixcylindered oil engines. The cab seats the driver and mate, and has also four passenger seats which may be converted into two bunks.
The first of these models, known as Bulldogs, are designed as lorries, but later versions will include fuel tankers and street sprinklers.
9s. MORE FOR DRIVERS
LORRY drivers working for iron, 1-1 steel and non-ferrous scrap companies will receive an extra 9s. a week as from February 13, bringing their minimum rate for a 44-hour week up to £7 15s.