Power to Compel Vehicle Cleaning
27th January 1956
Page 20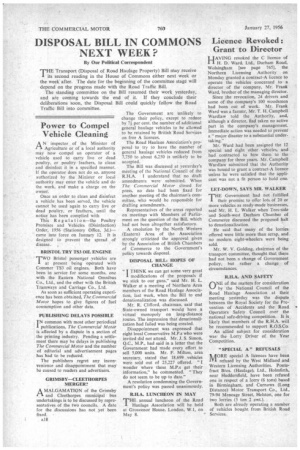 Page 20, 27th January 1956 —
Power to Compel Vehicle Cleaning
Close
N inspector of the Minister of Agriculture or of a local authority may now compel an operator of a vehicle used to carry live or dead poultry, or poultry feathers, to clean and disinfect it in a specified manner. If the operator does not do so. anyone authorized by the Minister or loc41 authority may enter the vehicle and do the work, and make a charge on the owner.
Once an order to clean and disinfect a vehicle has been served, the vehicle cannot be used again to carry live or dead poultry, or feathers, until the notice has been complied with
This Regulation—the Poultry Premises and Vehicles (Disinfection) Order, 1956 (Stationery Office, 3d.)— came into force on January 12. It is designed to prevent the spread of disease. , BRISTOL TRY TS3 OIL ENGINE
TWO Bristol passenger vehicles are at present being operated with Commer TS3 oil engines. Both have been in service for some months, one with the Eastern National Omnibus Co., Ltd., and the other with the British Tramways and Carriage Co., Ltd. As soon as sufficient operating experience has been obtained, The Commercial Motor hopes to give figures of fuel consumption and other data.
PUBLISHING DELAYS POSSIBLE
IN common with most other periodical I publications, The Commercial Motor is affected by a dispute in a section of the printing industry. Pending a settlement there may be delays in publishing The Commercial Motor and the number of editorial and advertisement pages has had to be reduced.
The publishers regret any inconvenience and disappointment that may be caused to readers and advertisers.
GRIMSBY—CLEETHORPES MERGER?
A MALGAMATION of the Grimsby 1-1. and Cleethorpes municipal bus undertakings is to be discussed by representatives of the two councils. A date for the discussions has not yet been fixed.
Al 8