Licence Revoked: Grant to Director
27th January 1956
Page 20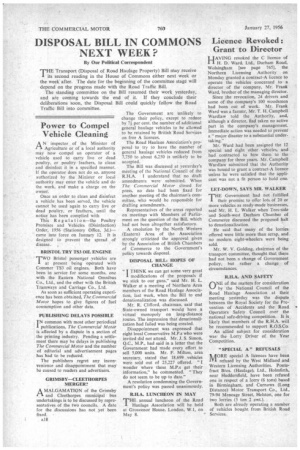 Page 20, 27th January 1956 —
Licence Revoked: Grant to Director
Close
HAVING revoked the C licence of H. D. Ward, Ltd., Durham Road, Wolsingham [see page 7651, the Northern Licensing Authority on Monday granted a contract-A licence to operate the vehicles concerned to a director of the company, Mr. Frank Ward, brother of the managing director.
Since the revocation, 24 drivers and some of the company's 100 woodsmen had been out of work. Mr. Frank Ward was a farmer, Mr. T. H. Campbell Wardlaw told the Authority, and, although a director, Had taken no active part in the company's management. Immediate action was needed to prevent a" major disaster to a substantial undertaking."
Mr. Ward had been assigned the 12 special and eight other vehicles, and had contracted to hire them to the company for three years. Mr. Campbell Wardlaw submitted that the Authority was bound to grant a contract-A licence unless he were satisfied that the applicant was not a fit person to hold one.
LET-DOWN, SAYS MR. WALKER
THE Government had not fulfilled their promise to offer lots of 20 or more vehicles as ready-made businesses, said Mr. H. L. Walker when Tees-side and South-west Durham Chamber of Commerce discussed the proposed halt to denationalization.
He said that many of the lorries offered were little more than scrap, and no modern eight-wheelers were being sold.
Mr. W. V. Golding, chairman of the transport committee, thought that there had not been a change of Government policy, but rather a change of circumstances.
R.H.A. AND SAFETY
rINE of the matters for consideration by the National Council of the Road Haulage Association at their meeting yesterday was the dispute between the Royal Society for the Prevention of Accidents and the Road Operators Safety Council over the national safe-driving competition. It is likely that members of the R.H.A. will be recommended to support R.O.S.Co.
An allied subject for consideration was the Lorry Driver of the Year Competition.
"SPECIAL A" REFUSALS
NAORE special A ]icences have been in refused by the West Midland and Western Licensing Authorities. Pontefract Bros. (Haulage), Ltd., Holmfirth, near Huddersfield, have been refused one in respect of a lorry (6 tons) based in Birmingham, and Curnows (Long Distance) Motor Transport Co., Ltd., 79-94 Meneage Street, Helston, one for two lorries (5 ton 2 cwt.).
Both are already operating a number of vehicles bought from British Road Services.