DISPOSAL BILL IN COMMONS NEXT WEEK?
27th January 1956
Page 20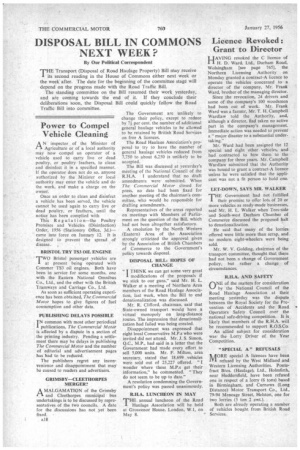 Page 20, 27th January 1956 —
DISPOSAL BILL IN COMMONS NEXT WEEK?
Close
By Our Political Correspondent
THE Transport (Disposal of Road Haulage Property) Bill may receive its second reading in the House of Commons either next week or the week after. The date for the beginning of the committee stage will depend on the progress made with the Road Traffic Bill.
The standing committee on the Bill resumed their work yesterday, and are coming towards the end of it. If they conclude their deliberations Soon, the Disposal Bill could quickly follow the Road Traffic Bill into committee.
The Government are unlikely to change their policy, except to reduce by 71 per cent. the number of additional general haulage vehicles to be allowed to be retained by British Road Services on free A licences.
The Road Haulage Association's proposal to try to have the number of general haulage vehicles reduced from 7,750 to about 6,250 is unlikely to be accepted.
The Bill was discussed at yesterday's meeting of the National Council of the R.H.A. I understand that no draft amendments were submitted. When The Commercial Motor closed for press, no date had been fixed for another meeting of the chairman's committee, who would be responsible for drafting amendments.
Representatives of the areas' reported on meetings with Members of Parliament on the question of the Bill, which had not been altogether satisfactory.
A resolution by the North Western (Eastern) Area of the Association strongly criticized the approval given by the Association of British Chambers of Commerce to the Government's policy towards disposal.
DISPOSAL BILL: HOPES OF CHANGE
"j THINK we can get some very great
I modifications of the proposals if we stick to our guns," said Mr. H. L. Walker at a meeting of Northern Area members of the Road Haulage Association, last week, when the Bill to end denationalization was discussed.
Mr. R. Clifford, chairman, said that State-owned transport would have a virtual monopoly on long-distance routes. The impression that denationalization had failed was being created.
Disappointment was expressed that eight local Conservative M.P.s who were invited did not attend. Mr. J. S. Simon, Q.C., M.P., had said in a letter that the Government had made every effort to sell 5,000 units. Mr. F. Milton, area secretary, stated that 18,699 vehicles were sold out of 25,227 offered. "I wonder where these M.P.s get their information," he commented. "They do not seem to be up to date."
A resolution condemning the Government's policy was passed unanimously.
RH.A. LUNCHEON IN MAY
THE, annual luncheon of the Road Haulage Association will be held at Grosvenor House, London, W.1, on May 8.