New Lighting Regulations Adopted
27th January 1940
Page 18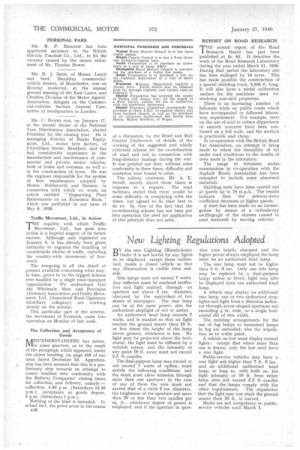 Page 18, 27th January 1940 —
New Lighting Regulations Adopted
Close
BY the new Lighting (Restrictions) Order it is not lawful for any lights to be displayed, except those authorized, inside a closed vehicle so that any illumination is visible from outside.
Side lamps must not exceed 7 watts. Any reflector must be rendered ineffective and light emitted through an aperture not above 2 ins, diameter, obscured by the equivalent of two sheets of newspaper. The rear lamp can be of the same power, also the authorized stoplight of red or amber.
An authorized head lamp exceeds 7 watts, and is masked so that no light reaches the ground nearer than 10 ft. or five times the height of the lamp above ground, whichever is less, No
light may be projected above the hori , zontai, the light must be diffused by a
suitable screen, and the intensity at any point 10 ft. away must not exceed 2.5 ft.-candles.
The dual-purpose. lamp may exceed or not exceed 7 watts at option, must satisfy the following conditions, and the mask must allow emission through more than one aperture : in the case of one of these the area must not exceed that of a circle 2 ins, diameter, the brightness of the aperture not more than 20 or less than two candles per sq. ft., whichever degree of power is employed, and if the aperture in ques
tion were totally obscured and the higher power always employed the lamp must be an authorized head lamp.
The rear lamp must not be higher than 3 ft. 6 ins. Only one side lamp may be replaced by a dual-purpose lamp; unless so fitted, light may also be displayed from one authorized head lamp.
A vehicle may display an additional rear lamp, one or two authorized stoplights and light from a direction indicator through arrow-shaped apertures not exceeding * in. wide, or a single horizontal slit of this width, The existing arrangements for the use of fog lamps or unmasked lamps in fog are embodied, also the stipulation as to white paint.
A vehicle on tow must display normal lights ; except that where more than one is drawn, only the last need have a rear light.
Public-service vehicles may have a rear light not higher than 7 ft. 6 ins., and an additional authorized head lamp, so long as, with both on, the light intensity at 10 ft. from either lamp does not exceed 2.5 ft,-candles and that the lamps comply with the other requirements. The stipulation that the light may not reach the ground nearer than 10 ft. is waived.
Masks are not compulsory on publicservice vehicles until March 1,