. i Export "Awe n Danger
27th February 1953
Page 57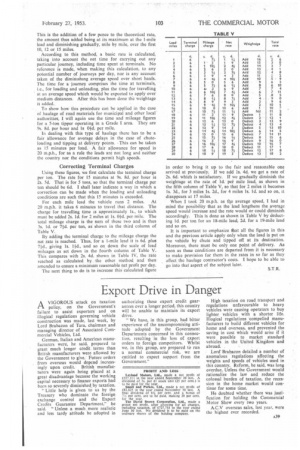 Page 57, 27th February 1953 —
. i Export "Awe n Danger
Close
AVIGOROUS attack on taxation policy, on the Government's failure to assist exporters and on illogical regulations governing vehicle construction was made, last week, by Lord Brabazon of Tara. chairman and managing director of Associated Commercial Vehicles, Ltd.
German, Italian and American manufacturers were, he said. prepared to grant much longer credit terms than British manufacturers were allowed by the Government to give. Future orders from overseas would depend increasingly upon credit. British manufacturers were again being placed at a great disadvantage because the working capital necessary to finance exports had been so severely diminished by taxation. Little help is given to us by the Treasury who dominate the foreign exchange control and the Export Credits Guarantee Department." he said_ "Unless a much .more realistic and less tardy attitude be adopted in authorizing these export credit guarantees over a longer period, this country will be unable to maintain its export drive.
" We have, in this group, had bitter experience of the uncompromising attitude adopted by the Government Departments concerned in this connection, resulting in the loss of export orders to foreign competitors. Whilst we, in this group, are prepared to run a normal commercial risk, we are entitled to expect support from the Government." High taxation on road transport and regulations unfavourable to heavy vehicles were causing operators to buy lighter vehicles with a shorter life. Illogical regulations -compelled manufacturers to build different vehicles for home and overseas, and prevented the saving in cost which would arise if it were possible to market standard vehicles in the United Kingdom and abroad.
. Lord Brabazon detailed a number of anomalous regulations affecting the weights and speeds of vehicles used in this country. Reform, he said, was long overdue. Unless the Government would rationalize the law and reduce the colossal burden of taxation, the recession in the home market would continue for some time.
He doubted whether there was justification for holding the Commercial Motor Show every two years.
A.C.V overseas sales, last year, were the highest ever recorded.