The Last Word on
27th February 1953
Page 53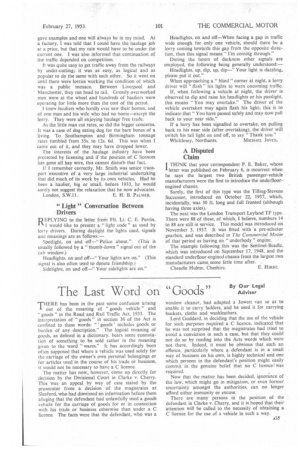 Page 53, 27th February 1953 —
The Last Word on
Close
By Our Legal Adviser
THERE has been in the past some confusion arising I out of the meaning of "goods vehicle " and " goods " in the Road and Rail Traffic Act, 1933. The interpretation of " goods " in section 36 of the Act is confined to these words: " goods ' includes goods or burden of any description." The logical meaning of goods, as defined in a dictionary, bears some connotation of something to be sold rather in the meaning given to the word "wares." It has accordingly been often supposed that where a vehicle was used solely for the carriage of the owner's own personal belongings or for articles used in the course of his trade or business, it would not be necessary to have a C licence.
The matter has now, however, come up directly for decision by the Divisional Court in Clarke v. Cherry. This was art appeal by way of case stated by the prosecutor from a decision of the magistrates at Sleaford, who had dismissed an information before them alleging that the defendant had unlawfully used a goods vehicle for the carriage of goods for or in connection with his trade or business otherwise than under a C licence. The facts were that the defendant, who was a window cleaner, had adapted a Jowett van so as to enable it to carry ladders, and he used it for carrying buckets, cloths and washleathers.
Lord Goddard, in deciding that the use of the vehicle for such purposes required a C licence, indicated that he was not surprised that the magistrates had tried to avoid a conviction in such a case, but that they could not do so by reading into the Acts words which were not there. Indeed, it must be obvious that such an offence, particularly where a. defendant is in a small way of business on his own, is highly technical and one which persons in the defendant's position might easily commit in the genuine belief that no C licence/ was required.
Now that the matter has been decided, ignorance of the law, which might go in mitigation, or even former uncertainty amongst the authorities, can no longer afford either immunity or excuse.
There are many persons in the position of the defendant in Clarke v. Cherry, and it is hoped that their attention will be called to the necessity of obtaining a C licence for the use of a vehicle in such a way.