Not the Stuff for the Troops!
27th February 1953
Page 50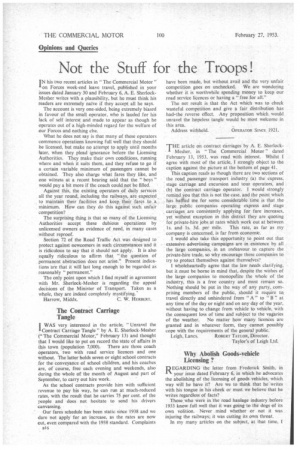 Page 53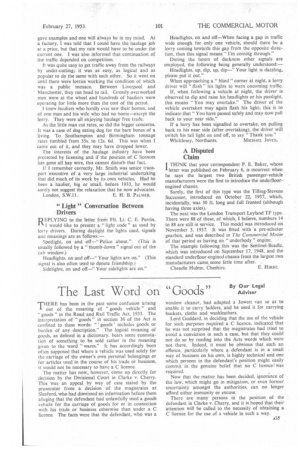 Page 50, 27th February 1953 —
Not the Stuff for the Troops!
Close
1N his two recent articles in "The Commercial Motor" on Forces week-end leave travel, published in your issues dated January 30 and February 6, A. E. SherlockMesher writes with a plausibility, but he must think his readers are extremely naive if they accept all he says.
The account is very one-sided, being extremely biased in favour of the small operator, who is lauded for his lack of self interest and made to appear as though he operates out of a high-minded regard for the welfare of our Forces and nothing else.
What he does not say is that many of these operators commence operations knowing full well that they should be licensed, but make no attempt to apply until months later, when they plead ignorance before the Licensing Authorities. They make their own conditions, running where and when it suits them, and they refuse to go if a certain variable. minimum of passengers cannot be obtained. They also charge what fares they like, and one witness at a recent hearing said that the " boys " would pay a bit more if the coach could not be filled.
Against this, the existing operators of daily services all the year round, including the railways, are expected. to maintain their facilities and keep their fares to a minimum. How can they do this against such unfair competition?
The surprising thing is that so many of .the Licensing Authorities accept these dubious Operations by unlicensed owners as evidence of need, in many cases without reproof.
Section 72 of the Road Traffic Act was designed to protect against newcomers in such circumstances and it is ridiculous to say that it should not apply. It is also equally ridiculous to affirm that "the question of permanent abstraction does not arise." Present indications are that it will last long enough to be regarded as reasonably "permanent."
The only point upon which I find myself in agreement with Mr. Sherlock-Mesher is regarding the appeal decisions of the Minister of Transport. Taken as a whole, they are indeed completely mystifying.
Harrow, Middx. C. W. HERBERT.
The Contract Carriage Tangle
I WAS very interested in the article, " Unravel the a Contract Carriage Tangle" by A. E. Sherlock-Mesher
• (" The Commercial Motor," February 13) and thought that I would like to put on record the state of affairs in this town (population 7,000). There are three coach operators, two with road service licences and one without. The latter holds seven or eight school contracts for the conveyance of school children, and his coaches are, of course, free each evening and weekends, also during the whole of the month of August and part of September, to carry out hire work.
As the school contracts provide him with sufficient revenue to pay his way, he can run at much-reduced rates, with the result that he carries 75 per cent. of the people and does not hesitate to send his drivers canvassing.
Our fares schedule has been static since 1938 and we dare not apply for an increase, as the rates are now cut, even compared with the 1938 standard. Complaints
B 1 6
have been made, but without avail and the very unfair competition goes on unchecked. We are wondering whether it is worthwhile spending money to keep our road service licences or having a "free for all."
The net result is that the Act which was to check wasteful competition and give a fair distribution has had-the reverse effect. Any proposition which would unravel the hopeless tangle would be most welcome in this area.
Address withheld. OPERATOR SINCE 1921.
THE article on contract carriages by A. E. SherlockMesher, in "The Commercial Motor" dated February 13, 1953, was read with interest. Whilst I agree with most of the article, I strongly object to the caption against the picture at the bottom of. page 41.
This caption reads as though there are two sections of the road .passenger transport industry (a) the express, . stage carriage and excursion and tour operators, and
(b) the contract carriage operator. I would strongly remind you that this is not the case, and the point which has baffled me for some considerable time is that the large public companies operating express and stage carriages are consistently applying for fare increases, yet without exception in this district they are quoting for private-hire jobs at rates which work out at between is. and is. 3d. per mile. This rate, as far as my company is concerned, is far from economic.
I would also take this opportunity to point out that extensive advertising campaigns are in existence by all the large companies, in an endeavour to capture the private-hire trade, so why, encourage these companies to try to protect themselves against themselves?
I wholeheartedly agree that the law needs clarifying,
but it must be borne in mind that, despite the wishes of the large companies to monopolize the whole of the industry, this is a free country and must remain so. Nothing should be put in the way of any party, comprising members of the public, should it require to travel directly and unhindered from " A" to "B at any time of the day or night and on any day of the year, without having to change from vehicle to vehicle, with the consequent loss of time and subject to the vagaries of the weather. No matter how many licences are granted and in whatever form, they cannot possibly cope with the requirements of the general public.
Leigh, Lancs. ROBERT TAYLOR, Director.
Taylor's of Leigh Ltd.
Why Abolish Goods-vehicle Licensing ?
REGARDING the letter from Frederick Smith, in your issue dated February 6, in which he advocates the abolishing of the licensing of goods vehicles, which way will he have it? Are we to think that he writes with his tongue in his cheek or must we believe that he writes regardless of facts?
Those who were in the road haulage industry before 1933 know full well that it was going to the clogs -of its own volition. Never mind whether or not it was injuring the railways; it was cutting its own throat.
In my many articles on the subject, at that time, gave examples and one will always be in my mind. At a factory, I was told that I could have the haulage job at a price, but that my rate would have to be under the current one. I was also informed that continuation of the traffic depended on competition. .
It was quite easy to get traffic away from the railways by under-cutting; it was as easy, as logical and as popular to do the same with each other. So it went on until there were lorries working the condition of which was a public menace. Between Liverpool and Manchester, they ran head to tail. Grossly overworked men were at the wheel and hundreds of hauliers were operating for little more than the cost of the petrol.
I knew hauliers who hardly ever saw their homes, and of one man and his wife who had no home—except the lorry. They were all enjoying haulage free trade.
As the little man cut rates, so did the bigger concerns. It was a case of dog eating dog for the bare bones of a living. To Southampton and Birmingham tonnage rates tumbled from 35s. to 12s. 6d. This was when came out of it, and they may have dropped lower.
The interests of the haulage industry have been protected by licensing and if the position of C licences has gone all hay wire, this cannot disturb that fact.
If I remember correctly, Mr. Smith was senior transport executive of a very large industrial undertaking that did much of its work by its own vehicles. Had he been a haulier, big or small, before 1933, he would surely not suggest the relaxation that he now advocates.
London, S.W.11. E. H. B. PALMER.
"Light" Conversation Between Drivers •
REPLYING to the letter from Flt. Lt. C. E. Perrin, I would like to present a." light code" as used by lorry drivers. During daylight the lights used, signals and meanings are as follows:—
Spotlight, on and off—" Police about." (This is usually followed by a " thumb-down " signal out of the cab window.) Headlights, on and off—" Your lights are on." (This signal is also often used to denote friendship.) Sidelights, on and off—" Your sidelights are on." Headlights, on and off—When facing a gap in traffic wide enough for only one vehicle, should there be a lorry coming towards this gap from the opposite direction, then this signal means "I'm coming through."
During the hours of darkness other signals are employed, the following being generally understood:—
Headlights, up, dip, up, dip—" Your light is dazzling, please put it out."
When approaching a " blind " corner at night, a lorry driver will " flash " his lights to warn oncoming traffic_ If, when following a vehicle at night, the driver is observed to dip and raise his headlights or his passlight, this means "You may overtake." The driver of the vehicle overtaken may again flash his light; this is to indicate that "You have passed safely and may now pull back to your near side."
If a lorry has been signalled to overtake, on pulling back to his near side (after overtaking), the driver will switch his tail light on and off, to say "Thank you."
Whittlesey, Northants. MICHAEL JOYCE.
A Disputed Claim
THINK that your correspondent P. E. Baker, whose 4. letter was published on February 6, is incorrect when he says the largest two British passenger-vehicle manufacturers were the first to introduce the underfloorengined chassis.
Surely, the first of this type was the Tilling-Stevens Successor, introduced on October 22, .1937, which, incidentally, was 30 ft. long and full fronted (although having three axles).•
The next was the London Transport Leyland TF type. There were 88 of these, of which, I believe, numbers 14 to 88 are still in service. This model was introduced on November 5, 1937. It was fitted with 'a pre-selector gearbox, and was described in The Commercial Motor Of that period as having an " underbody " engine.
The example following this was the Sentinel-Beadle, which was introduced on September 17,,1948, and the standard underfloor-engined chassis from the largest two manufacturers came, some little time after.
Cheadle Hulme, Cheshire. E. HIRST.