Operators Switching to Mileage Basis
27th February 1953
Page 48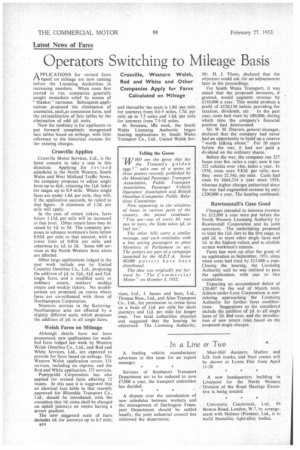 Page 48, 27th February 1953 —
Operators Switching to Mileage Basis
Close
Crosville, Western Welsh, Red and White and Other Companies Apply for Fares Calculated on Mileage
A PPLICATIONS for revised fares ri hissed on mileage are now coming before the Licensing Authorities in increasing numbers. When costs first started to rise, companies generally sought immediate relief by means of "
blanket" increases. Subsequent applications proposed the elimination of anomalies, such as concession fares, and the rationalization of fare tables by the elimination of odd id. units.
Now the tendency is for applicants to put forward completely reorganized fare tables based on mileage, with little reference to the historical reasons for the existing charges.
Crosville Applies Crosville Motor Services, Ltd., is the latest concern to take a step in this direction. Applying for revised schedules in the North Western, South Wales and West Midland Traffic Areas, the company proposes to adjust single fares up to 4id., retaining the lid. ticket for stages up to 0,9 mile. Where single fares are under 1.4d. per mile, they will. if the application succeeds, be raised to that figure. A minimum of 1.2d. per mile will apply.
In the case of return tickets, fares below I.15d. per mile will be increased to that level. Other return fares may be raised by Id. to 5d. The company proposes to advance workmen's fares below 0.95d. per mile to that amount, with a lower limit of 0.85d. per mile, and otherwise by id. to 3d. Some 640 services in the North Western Area alone are affected.
Other large applications lodged in the past week include one by United Counties Omnibus Co., Ltd., proposing the addition of id. to 31d., 4id. and 5id. single fares, and a modified scale or ordinary return, workers' midday return and weekly tickets. No modifications are proposed on routes where fares are co-ordinated with those of Northampton Corporation.
Nineteen services in the KetteringNorthampton area are affected by a slightly different scale, which proposes the addition of id. to all single fares.
Welsh Fares on Mileage Although details have not been announced, new applications for modified fares lodged last week by Western Welsh Omnibus Co., Ltd., and Red and White Services, Ltd., are expected to provide for fares based on mileage. The Western Welsh application covers 131 services, including six express, and the Red and White application, 125 services.
Pontypridd Corporation has also applied for revised fares affecting 12 routes. In this case it is suggested that an identical fare table to that recently approved for Rhondda Transport Co., Ltd., should be introduced, with the exception that Id. extra shall be charged on uphill journeys on routes having a severe gradient.
The new suggested scale of fares includes Id. for journeys up to 0.5 mile, and thereafter the scale is I .8d. per mile for journeys from 0.6-5 miles, 1.7d. per mile up to 7.5 miles and 1.6d. per mile for journeys from 7.5-10 miles.
At Swansea, Mkt week, the South Wales Licensing Authority began hearing applications by South Wales Transport Co., Ltd., United Welsh Ser vices, Ltd., J. James and Sons, Ltd., Thomas Bros., Ltd., and Afan Transport Co., Ltd., for permission lo revise fares on a basis of 11d. per mile for short journeys and 1,1d. per mile for longer ones. Ten local authorities objected and suggested that the hearing be adjourned. The Licensing Authority, Mr. H. J. Thom, declared that the objectors could ask for an adjournment later in the proceedings.
For South Wales Transport, it was stated that the proposed increases, if granted, would augment revenue by £110,000 a year. This would produce a profit of £120,130 before providing for taxation, dividends, etc. In the past year, costs had risen by £80,000, during which time the company's financial position had deteriorated.
Mr. W. M. Dravers, general manager, declared that the company had never had an opportunity to build up a reserve "worth talking about." For 10 years before the war, it had not paid a dividend on the ordinary shares.
Before the war, the company ran 327 buses over 8m. miles a year; now it ran 322 vehicles over 14m. miles a year. In 1938, costs were 9.83d. per mile; now they were 22.34d. per mile. Costs had risen by £664,214 a year since 1938, whereas higher charges authorized since the war had augmented revenue by only £200,000 a year. The hearing continued.
• Rawtenstall's Case Good Changes intended to increase revenue by £15,600 a year were put before the North Western Licensing Authority by Rawtenstall Corporation and its joint operators. The undertaking proposed to limit the lid. fare to the first stage, to add id. to most other single fares and Id. to the highest values, and to abolish certain workmen's returns.
Fares last went up after the grant of an application in September, 1951, since when costs had risen by £15,000 a year. Closing the hearing, the Licensing Authority said he was inclined to pass the application, with one or two exceptions.
Expecting an accumulated deficit of £20,407 by the end of March next, Ashton-under-Lyne Corporation is considering approaching the Licensing Authority for further fares modifica tions. Suggestions so far considered include the addition of id. to all single fares of 2d. And over, and the introduction of new return rates based on the proposed single charges.